With more than 10 years of plastic surgery training and experience, Dr. Ahmed Ibrahim specializes in minimally invasive cosmetic surgery of the face and body including laser and RF treatments, Qwo cellulite reduction, and microneedling. Dr. Ibrahim is a 'master injector' of BOTOX and dermal fillers. In addition, Dr. Ibrahim performs comprehensive face and body skin cancer care and MOHS surgery, and he is part of our post-operative care delivery team to support patients after surgery at our offices in Melbourne and Merritt Island, Florida.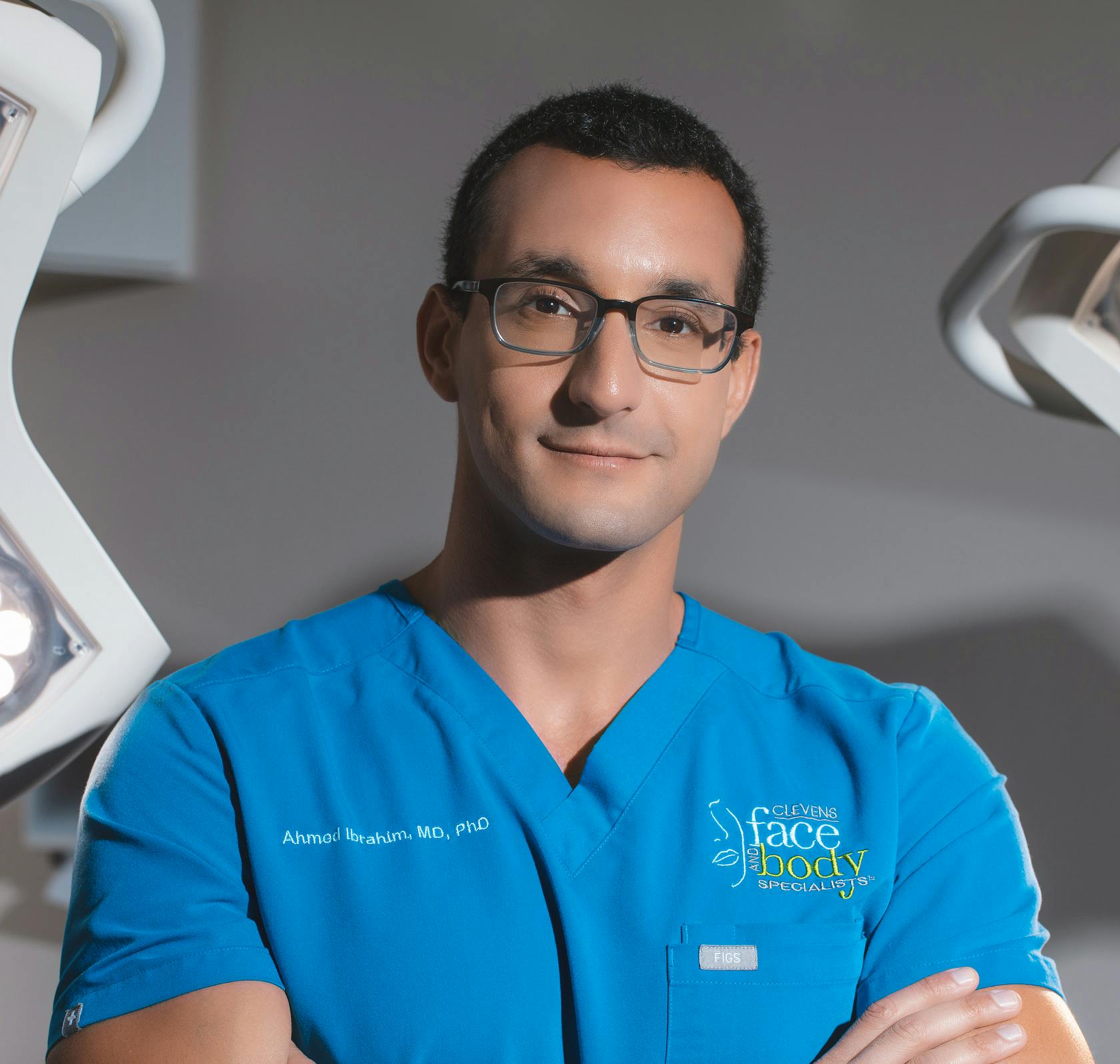 Dr. Ahmed Ibrahim was selected for a competitive yearlong fellowship in Facial Plastic and Reconstructive Surgery under the mentorship of Ross A. Clevens, MD, FACS, and Renata Khelemsky, MD. Prior to joining the Clevens team, Dr. Ibrahim's advanced training also included a fellowship in burn surgery, reconstruction, and wound care at Nassau University Medical Center/Long Island Plastic Surgical Group in New York. He also completed a research fellowship in plastic and reconstructive surgery at Harvard Medical School and an internship in surgery at Beth Israel Deaconess Medical Center, also at Harvard Medical School. Dr. Ibrahim underwent residency training in plastic and reconstructive surgery at Louisiana State University's Health Sciences Center.
Born in London, Dr. Ibrahim earned his medical degree and completed his surgical internship at Ain Shams University and Hospitals in Cairo, Egypt, graduating with the designation "Excellent Academic Performance with Honors." Following graduation from medical school, Dr. Ibrahim obtained a Ph.D. in plastic and reconstructive surgery from Erasmus University Rotterdam in The Netherlands.

With more than 100 journal publications, Dr. Ibrahim has served as managing editor for two plastic surgery textbooks. He has presented more than 70 talks to other surgeons, holds two patents, and has mentored dozens of medical students on their clinical research.
Dr. Ibrahim enjoys going to the gym, sports, and traveling.
Book Now with Dr. Ibrahim