September 6, 2017 | By Ross A. Clevens, MD, FACS
Plastic surgery is a journey. And every journey starts with a single step. For many of my patients, the first step is the initial one-on-one consultation.
If you are considering a cosmetic procedure, I recommend that you seek factual information to learn everything you can about plastic surgery and your surgeon. Having a consultation is the single best way to build your knowledge, giving you the power to make the right decision for yourself and achieve the best possible result in the safest setting.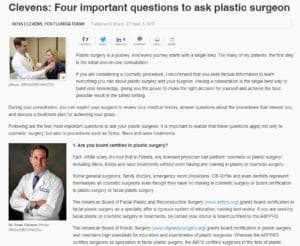 During your consultation, you can expect your surgeon to review your medical history, answer questions about the procedures that interest you, and discuss a treatment plan for achieving your goals. Following are the four most important questions to ask your plastic surgeon. It is important to realize that these questions apply not only to cosmetic 'surgery' but also to procedures such as Botox, fillers and laser treatments.