November 17, 2017 | By Ross A. Clevens, MD, FACS
Ross A. Clevens, MD, FACS was invited to deliver multiple presentations to other facial plastic surgeons from around the world at the much-anticipated Global Aesthetics meeting this month. The conference, held at Loews Miami Beach from November 2-4, included leading plastic surgeons and aesthetic professionals from around the world. This is the second consecutive year Dr. Clevens has been asked to be a presenter at the Global Aesthetics Conference.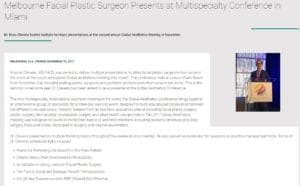 The only multispecialty, international aesthetic meeting in the world, the Global Aesthetics conference brings together an international group of specialists for a three-day learning event, designed to build educational cooperation between the different core specialists. Industry leaders from all aesthetic specialties attend, including facial plastic surgery, plastic surgery, dermatology, oculoplastic surgery and allied health care providers. The 2017 Global Aesthetics meeting was designed to touch on the hottest topics of aesthetic medicine, including sessions on breast and body surgery, fillers and toxins, facial plastic surgery, and vaginal rejuvenation.