May 23, 2018 | By Ross A. Clevens, MD, FACS
Ross A. Clevens, MD, FACS and his team are excited to host their annual Patient Appreciation Event to thank patients while giving back to the community.
MELBOURNE, FLA. (PRWEB) MAY 23, 2018 - The team at Clevens Face and Body Specialists is excited to announce that their biggest celebration of the year will benefit the Brevard Achievement Center. The award-winning practice will host its annual Patient Appreciation Event on Thursday, June 14 from 6:00 p.m. to 8:30 p.m. at the Clevens Face and Body Specialists Melbourne office in the Eau Gallie Arts District. A portion of all proceeds from this year's event will support the Brevard Achievement Center's "Dreams" program, helping persons with disabilities to expand their idea of what is possible for their future and to realize their dreams.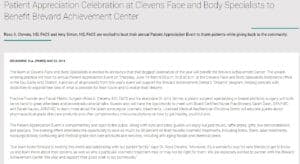 Practice Founder and Facial Plastic Surgeon Ross A. Clevens, MD, FACS and his associates will be on hand to greet attendees and provide educational talks. Guests also will have the opportunity to meet with Master Injectors and Laser Specialists to learn more about the latest nonsurgical cosmetic treatments. Licensed Medical Aesthetician Christina Smith will educate guests about pharmaceutical-grade skin care products and offer complimentary mini-consultations on how to get healthy, youthful skin.
The Patient Appreciation Event is complimentary and open to the public. Along with wine and bites, guests will enjoy live jazz music, raffle prizes, gifts, live demonstrations and specials. The evening offers attendees the opportunity to save as much as 50 percent on their favorite cosmetic treatments, including Botox, fillers, laser treatments, nonsurgical body contouring and medical-grade skin care products and services, including anti-aging facials and chemical peels.
"Our team looks forward to hosting this event and celebrating with our patient family," says Dr. Ross Clevens. "Moreover, it's a wonderful way for new friends to get to know us and learn more about their options, as well as why a particular cosmetic treatment may or may not be right for them. We are especially excited to partner with the Brevard Achievement Center this year and support their good work in our community."
Now celebrating 50 years of service to the community, the Brevard Achievement Center provides persons with disabilities innovative services, such as employment assistance and training, and opportunities to achieve personal success. "At BAC, we celebrate the unique abilities of the people we serve," said Amar Patel, president and CEO of Brevard Achievement Center. "The Clevens team is similar; we both find beauty in what makes people uniquely 'them.' Then we help bring out what's on the inside, so ultimately that's what other people see as well."
Dr. Clevens is known for his commitment to giving back to the Melbourne community. Each year, Clevens Face and Body Specialists gives more than $100,000 to support local nonprofits. Dr. Clevens also is active in the American Academy of Facial Plastic and Reconstructive Surgery Domestic Violence Project, offering pro bono reconstructive surgery to victims of domestic violence who have suffered facial trauma. In 2010, Dr. Clevens and his family created Face of Change, a nonprofit charitable organization that provides food and medical care locally in Brevard County and in developing nations.
Registration is now open for the 2018 Patient Appreciation Event hosted by Clevens Face and Body Specialists. To RSVP, call 321-727-3223.
ABOUT CLEVENS FACE AND BODY SPECIALISTS
Clevens Face and Body Specialists is a plastic surgery group and medispa founded by Ross A. Clevens, MD, FACS. A graduate of Yale, Harvard and the University of Michigan, Dr. Clevens is Brevard's double-board certified facial plastic and reconstructive surgeon. He has served patients in the Central Florida area and beyond for more than 20 years. With offices in Melbourne and Merritt Island, Clevens Face and Body Specialists also offers breast and body plastic surgery, Botox and fillers, permanent hair restoration, laser treatments, laser hair removal, skin cancer care and medical-grade skin care. The practice helps patients look and feel their best by offering comprehensive care by a team of specialists. Known for leading the way with innovation, community giving and excellence in patient care, Clevens Face and Body Specialists was named one of the nation's top healthcare firms in the 2018 American Business Awards.