January 28, 2019 | By Ross A. Clevens, MD, FACS
Ross A. Clevens, MD, FACS, along with the team at Clevens Face and Body Specialists are pleased to announce the date for their 2018 Sparkle Party Open House. This annual event will be open to the public and held on Thursday, November 8th from 6:30 p.m. to 8:30 p.m. at the Melbourne office in the Eau Gallie Arts District located at 707 W. Eau Gallie Blvd.
MELBOURNE, FLA. (PRWEB) OCTOBER 26, 2018 - Dr. Ross Clevens and his team will be offering the best specials of the season on all your favorite cosmetic treatments.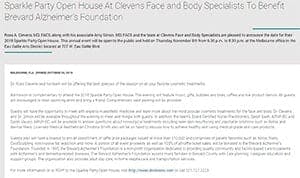 Admission is complimentary to attend the 2018 Sparkle Party Open House. The evening will feature music, gifts, bubbles and bites, raffles and live product demos. All guests are encouraged to wear sparkling attire and bring a friend. Complimentary valet parking will be provided.
Guests will have the opportunity to meet with experts in aesthetic medicine and learn more about the most popular cosmetic treatments for the face and body. Dr. Clevens and his team will be available throughout the evening to meet and mingle with guests and answer questions about nonsurgical treatments including laser skin resurfacing and injectable solutions such as Botox and dermal fillers. Licensed Medical Aesthetician Christina Smith also will be on hand to discuss how to achieve healthy skin using medical-grade skin care products.
Guests also will have a chance to win an assortment of raffle prize packages valued at more than $10,000 and comprised of patient favorites such as Botox, fillers, CoolSculpting noninvasive fat reduction and more. A portion of all event proceeds, as well as 100% of all raffle ticket sales, will be donated to the Brevard Alzheimer's Foundation. Founded in 1995, the Brevard Alzheimer's Foundation is a non-profit organization dedicated to providing quality community and facility-based care to patients with Alzheimer's and dementia-related diseases. The Brevard Alzheimer's Foundation assists many families in Brevard County with care planning, caregiver education and support groups. The organization also provides adult day care, in-home respite care and transportation services.
For more information or to RSVP to the Sparkle Party Open House, call 321.727.3223.
ABOUT CLEVENS FACE AND BODY SPECIALISTS
Clevens Face and Body Specialists is a plastic surgery group and medispa founded by Ross A. Clevens, MD, FACS. A graduate of Yale, Harvard and the University of Michigan, Dr. Clevens is Brevard's double-board certified facial plastic and reconstructive surgeon. He has served patients in the Central Florida area and beyond for more than 20 years. With offices in Melbourne and Merritt Island, Clevens Face and Body Specialists also offers breast and body plastic surgery, Botox and fillers, permanent hair restoration, laser treatments, nonsurgical body contouring, laser hair removal, skin cancer care and medical-grade skin care. The practice helps patients look and feel their best by offering comprehensive care delivered by a team of specialists. Known for leading the way with innovation, community giving and excellence in patient care, Clevens Face and Body Specialists was named one of the nation's top healthcare firms in the 2018 American Business Awards.