April 24, 2018 | By Ross A. Clevens, MD, FACS
Ross A. Clevens, MD, FACS is excited to share that his team is partnering with the Women's Center as part of the international Yale Day of Service. Dr. Clevens studied at Yale University as an undergraduate. The Yale Day of Service was first established in 2009 as a way for alumni to share their time and talents around the world. Last year, more than 3,500 volunteers participated across 40 states and in 20 countries.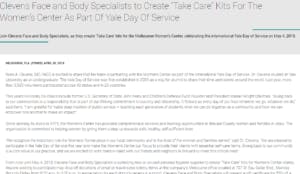 This year's Honorary Co-Chairs include former U.S. Secretary of State John Kerry and Children's Defense Fund Founder and President Marian Wright Edelman. "Giving back to our communities is a responsibility that is part of our lifelong commitment to country and citizenship. It follows us every day of our lives wherever we go, whatever we do," said Kerry. "I am grateful for Yale's deep tradition of public service — teaching each generation of students what we can do together as a community and how we can empower one another to make an impact."
Since opening its doors in 1975, the Women's Center has provided comprehensive services and learning opportunities to Brevard County women and families in crisis. The organization is committed to helping women by giving them a step up towards safe, healthy, self-sufficient lives.
"We recognize the important role the Women's Center plays in our local community and in the lives of the women and families served," said Dr. Clevens. "We are pleased to participate in the Yale Day of Service this year and make the Women's Center our focus to provide their clients with essential self-care items. Giving back to our community is a core value at our practice, and we are excited to work hand-in-hand with our friends and neighbors in Brevard to meet this critical need."