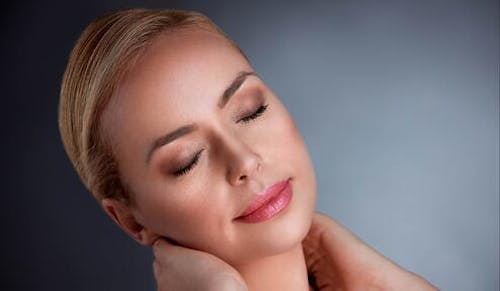 With age, we gain so much: wisdom, experience, and a stronger, more defined sense of self. Of course along with all of these benefits, we also experience fine lines and wrinkles as a natural part of aging.
While many of our patients enjoy vibrant, active lives, they seek our team's advice on ways to maintain a healthy, youthful appearance to reflect the inner vitality they feel. Here are several cosmetic procedures our team recommends to reduce the appearance of fine lines and wrinkles.
Fine Lines and Wrinkles: Why They Appear As We Age
Before we dive into the different procedures for reducing fine lines and wrinkles, let's talk about why they exist in the first place. There are several contributing factors to consider:
Changes in skin: As a person ages, the inner layer of skin, known as the dermis, gets thinner and loses some elasticity and collagen. Skin also loses its capacity for moisture retention.
Facial muscle contractions: Facial expressions like smiling, frowning, and squinting cause fine lines to appear. You've probably heard nicknames for some of these lines, like "elevens" or "crow's feet."
Loss of fullness: As the underlying bone and fat tissue in the face reduce and as gravity takes its toll, this can lead to folds in the skin and an overall saggier appearance.
Sun damage and smoking: Some factors can also cause fine lines and wrinkles to present themselves prematurely—chiefly, sun exposure and smoking.
Nonsurgical and Minimally Invasive Methods To Reduce Fine Lines and Wrinkles
A dedicated skincare routine with medical-grade products and an overall healthy lifestyle are essential at every age to reduce the appearance of wrinkles over time. But even with these measures, some wrinkling on the face is inevitable. Fortunately, there are procedures available to help you restore a youthful look.
If you want to get great results without undergoing surgery, there are a few valuable options to consider, including:
1. Botox
Botox is a cosmetic injectable used to minimize the appearance of dynamic wrinkles, especially those on the upper portion of the face. It's a quick and easy procedure, and the results typically last about three months before another treatment is needed.
2. Fillers
Fillers are another type of injectable. Unlike Botox, which is often mistaken for a filler, dermal fillers tend to work best on the lower two-thirds of the face and help address static wrinkles and restore lost fullness. Most fillers deliver results that last for 6-12 months, although in the case of Bellafill, results can last up to five years.
3. Laser Skin Resurfacing
Laser skin resurfacing can change the texture and appearance of your skin, removing lines and wrinkles, including static wrinkles and deeper crevices that appear when your face is at rest. This procedure can also correct complexion issues like brown spots. Recovery time ranges from none to 10 days, depending on the extent of the procedure.
4. Chemical Peels
A chemical peel involves treating the skin with an acidic solution. This causes damaged skin on the surface to peel off and promotes new collagen growth, leading to more youthful-looking skin with fewer fine lines, wrinkles, and other imperfections. Chemical peels vary in intensity and healing time from superficial to deep peel options.
5. Express Lift™
If you're looking for more dramatic results but would still prefer to forgo surgery, a great treatment to consider is an Express Lift™. This procedure uses a radiofrequency-powered system to reduce fat, boost collagen, and tighten skin. Recovery lasts just a few days, though some bruising or fullness can persist for about a week.
As nonsurgical and minimally invasive procedures, these treatment options involve relatively little to no downtime, making them a convenient option that won't disrupt your busy lifestyle. They also tend to be lower in cost compared to surgical procedures.
What should you be doing NOW to ensure you age gracefully? Check out our guide, Cosmetic Procedures For Every Decade Of Your Life."
Surgical Procedures To Minimize Fine Lines and Wrinkles
Surgical procedures can make more dramatic changes than nonsurgical options, making them a great choice when you have deep lines and wrinkles you want to correct. Some of the most popular surgical procedures for correcting wrinkles include a facelift and a brow or forehead lift.
6. Facelift
A facelift is a surgical procedure that removes excess skin and recontours areas on the neck and lower two-thirds of the face. This procedure can address deep wrinkles and drooping skin, delivering a smoother, more youthful look.
7. Brow/Forehead Lift
For wrinkles and sagging on the upper third of the face, you might consider getting a brow lift, also known as a forehead lift. This procedure can noticeably reduce both horizontal and vertical lines on the forehead and brow areas.
Keep in mind that surgical procedures are more invasive. This means you should plan for some downtime to recover post-op. Once this recovery is complete, you can enjoy substantial and long-lasting results.
Choosing the Right Procedure For You
No matter which procedure you choose to reduce fine lines and wrinkles, one thing remains true regardless: You need to see a board-certified facial plastic surgeon to achieve the best possible results. When it comes to facial procedures, a high level of expertise can be the difference in achieving impressive, natural-looking results. It's what we call the "specialist advantage."
Learn more about procedures to maintain your youthfulness throughout the decades with our e-book, or schedule your consultation to get started today.