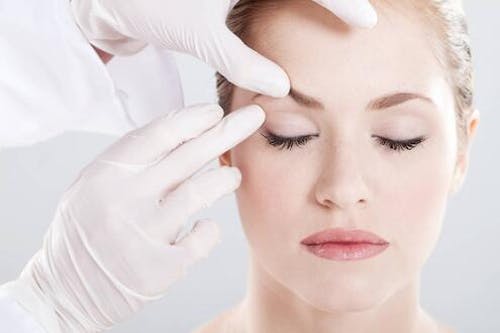 When you're considering plastic surgery, a consultation is an important step in your journey. It is an opportunity to learn important details about the procedure and to begin building a rapport with your surgeon. It's also the ideal time to ask any questions you have about the process, procedure, and recovery. Questions on these topics are essential for easing your concerns and managing your expectations, and the answers might just give you a better idea of what you want. But with so much to address—on top of already having the first-appointment jitters—how can you be sure that you'll leave with all the information you need to make your decision?
By creating a list in advance, you can ease your anxieties and ensure all your questions are answered. To help you get started, we compiled a list of questions that you should ask the surgeon and team to make the most of your cosmetic plastic surgery consultation. Armed with these questions (and a few of your own), you'll be prepared to move forward feeling confident and informed.
1. What is the surgeon's training and background?
When it comes to something as personal as plastic surgery, the relationship between patient and surgeon is extremely important. During your consultation, ask questions about the surgeon's education, training, background, certifications, safety record, and success rates to ensure you're working with someone whom you are comfortable and can trust to perform the procedure. To minimize the risk of complications and ensure you're happy with the end results, seek an experienced, board-certified plastic surgeon in the proper area of expertise. For instance, if you're interested in a tummy tuck, or abdominoplasty, look for a specialist in body procedures who performs tummy tucks on a regular basis and is certified by the American Board of Plastic Surgery. Likewise, if you're interested in a procedure such as facelift or rhinoplasty (a nose job), seek out a facial plastic surgery specialist who is certified by the American Board of Facial Plastic and Reconstructive Surgery. A doctor performing cosmetic procedures can claim to be "board certified" but may have received a certification in another specialty area. So, the important question to ask isn't just, "Are you board certified?" You also need to ask, "And by what board?"
2. Will surgery take place in an ambulatory surgical center?
It's important to learn where your cosmetic plastic surgery will take place: Will it be performed in an ambulatory surgical center (ASC) or an office-based procedure room? Because ASCs are required to pass difficult state inspections to receive accreditation, they typically have higher safety ratings and a lower risk of infection—meaning they're often the best choice. Surgical centers also typically require their own medical clearance before any surgery is performed in the facility, so only qualified candidates can move forward with an operation.
3. Are there any potential side effects or risks of complications?
Anyone considering plastic surgery is likely to have questions about the potential side effects or risks of complications. Though they are rare, there is always a possibility of developing an infection or having a poor reaction to anesthesia. Your plastic surgeon will be able to review your current health and medical history to determine whether or not you're a good candidate for the procedure and to minimize any complications. Your surgeon can also discuss safety protocols and explain any risk factors to consider before you make your decision.
Get the most our of your consultation. Come prepared with this comprehensive checklist to help you ask all the right questions.
4. What are reasonable expectations in terms of results?
Many prospective patients have big dreams for their post-procedure results. It's important to have goals, but it's also important to understand limitations and make sure what you hope to achieve is actually realistic. That's why the consultation is such an important part of the process; it's an opportunity for you to express your wishes so both you and your surgeon have a clear idea of what you want out of the cosmetic procedure, where you're headed, and how you can get there.
5. What is the expected level of discomfort during recovery?
Naturally, you're going to have questions about the recovery process. What level of discomfort should you expect, and how will your surgeon help you manage that? Will you require any specific at-home care during your recovery? By asking detailed questions about the recovery process, you can prepare in advance to ease any discomfort during the healing process.
6. When will you be able to resume normal activities?
Timing is another important factor when you're considering cosmetic plastic surgery. Ask your surgeon how much downtime you'll have following the procedure, both in terms of missing work and resuming other normal, day-to-day activities. For example, you might be able to return to work one week following the procedure, but still need to wait another few weeks before doing any heavy lifting or exercise.
7. What's the total cost and what fees are included?
Of course cost is a major factor when you're considering having a cosmetic procedure done—and it's important that you know what's included (and what's not included) in the quote you receive to avoid any unwelcome surprises down the road. For example, there are fees associated with lab work, anesthesia, the surgical center, supplies, and the surgeon's time. Some of these may be included in the quote, while others may be an additional expense. (You can learn more about the cost of plastic surgery in our free guide.)
There are several questions to ask when you first meet with your plastic surgeon for a consultation—and not all of them pertain to the procedure. By asking the right questions and preparing ahead of time, you can build trust and confidently choose the right plastic surgeon for you!