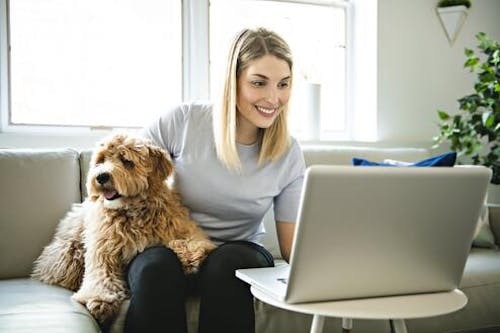 There are a number of important factors to consider when deciding whether or not to move forward with cosmetic surgery. For many patients, their hesitation comes into play for one reason: They need downtime and can't take off the necessary time for recovery.
Now, in the era of COVID-19, everything has changed. Countless people are working from home and social distancing due to the pandemic. After spending hours staring at themselves on video calls, many find those problem areas more obvious than ever. Some are recognizing an unexpected benefit of working from home: After surgery, it's faster to go back to working remotely than it is returning to an actual office building. Usually people take off a week or 10 days after rhinoplasty, but because so much business is currently conducted remotely, via the internet or Zoom, patients find that they can be back to work only 2-3 days after most procedures.
That's why many people, our patients included, have decided now is the perfect time for the cosmetic procedure they've been dreaming about. Let's take a look at the rise of cosmetic surgery during COVID-19, how surgeons are adapting, and what we're doing to take precautions in our own practice.
Cosmetic Surgery On the Rise During COVID-19
At our own plastic surgery group in Melbourne, FL, our specialist cosmetic surgeons are busier than ever—even in the midst of the COVID-19 pandemic. We are hearing patients say, "I can't travel, can't shop, and can't dine out ... so I'm finally going to have plastic surgery!" Or, "Before staring at myself on video calls all day, I didn't realize how large my nose is." Sometimes they even decide, "I finally have the downtime I've been waiting for to have the cosmetic procedure I want done!"
That said, this emerging trend is certainly not unique to our plastic surgery group. As a result of the newfound COVID-19 downtime, plastic surgery clinics around the world are reporting a rise in the number of patients exploring cosmetic treatments. Plastic surgeons from US to Korea and beyond have been busier than ever before as an increasing number of patients explore their options during this time.
The American Society of Plastic Surgeons (ASPS), explained: "Across the country there has been some pent-up demand. Our statistics show that people are still interested. Even during this pandemic the interest in plastic surgery has not waned." Interest in both nonsurgical and surgical treatments has increased.
According to the ASPS, facelift, rhinoplasty, blepharoplasty, breast augmentation, liposuction, and abdominoplasty were the most sought-after treatments during this time. A recent survey also found that 49 percent of those who haven't had plastic surgery in the past would be open to cosmetic or reconstructive treatment in the future, despite the COVID-19 pandemic.
This is largely due to patients recognizing the opportunity to recover at home and hardly miss any work—not to mention the ability to keep the procedure to themselves, because taking time off to heal can draw attention to the fact that someone has had a cosmetic treatment. On top of ample downtime for recovery, patients exploring facial plastic surgery and treatments are reassured by mask-wearing, which helps to hide any work they've had done while still healing.
Get the most out of your consultation. Come prepared with this comprehensive checklist to help you ask all the right questions.
Steps We're Taking To Ensure Your Comfort and Safety
We've introduced several new protocols designed for your protection, such as:
Conducting advanced screenings to determine if patients or team members have traveled recently or are showing any fever or respiratory symptoms before coming in to the office for a visit
Checking the temperature of patients and staff daily upon arrival
Enabling "curbside check-in" so patients can remain in their car until appointment time, rather than waiting in the lobby
Enforcing social distancing measures and one-way routes in the office
Using extra hand-sanitizing stations around the office
Increasing frequency and intensity of hand-washing and office cleaning
Requiring that team members avoid non-urgent personal travel and follow the same protocols as patients upon return to the office
Scheduling initial training and frequent meetings with staff to share best practices, workflow adjustments, and protocols
Providing free protective masks to all patients and team members
You can learn more about our COVID-19 safety protocols on our website or by reaching out to us via phone or email with any concerns you may have. Here's how our founder and facial plastic surgery specialist, Ross A. Clevens, MD, FACS, explained the precautions being taken to protect patients and staff:
"We're looking forward to moving forward, to taking care of our patients, performing surgery, seeing our cosmetic surgery patients and consultations, [and] performing skin cancer surgery. We've adopted new policies and procedures in the office to maintain six feet of social distancing. We've implemented new policies for cleansing and sterility and maintaining a safe workplace, both for our team and our patients."
Is It the Perfect Time For You To Have Cosmetic Surgery?
Going back to work sooner after surgery is a huge benefit of working from home and social distancing measures. If you're considering having cosmetic surgery or one of our nonsurgical treatment options, now may be the perfect time to move forward. We'd love to help you look and feel your best!
Schedule your consultation (virtual or in-person) with one of our plastic surgery specialists to discuss your goals, have your concerns addressed, and determine whether it's the right time to move forward with the procedures you've been dreaming of for ages—and rest and recover on your own time!
Get the most out of your consultation. Come prepared with this comprehensive checklist to help you ask all the right questions.