For years, Dr. Clevens has been offering non-surgical treatments that add volume to the facial contours and smooth lines and wrinkles. Soft tissue fillers like Radiesse, Restylane, Belotero and Juvederm have long been delivering excellent results for the correction of crow's feet, laugh lines, smiles lines, depressed scars, and more. Now, a product is available at Clevens Face and Body Specialists. It is known as Juvederm Voluma.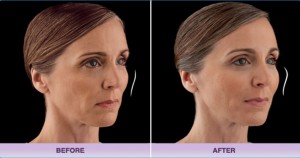 Juvederm Voluma is a cross-linked hyaluronic acid gel filler that uses 'Vycross technology' technology that produces a filler with more lift and a longer duration than other fillers on the market.
It is the first facial filler to be approved by the FDA for the non-surgical treatment of the cheeks.
Voluma adds volume to the cheeks, cheekbones, chin and mid-face, which commonly becomes drawn as the human body ages and collagen production slows. The filler gently lifts the three areas of the cheek (the apex, apple, and hollows) for a more youthful and healthy appearance.
Characteristics of Non-Surgical Procedures
According to facial plastic surgery expert Dr. Ross Clevens, an attractive face is characterized by smooth, round contours, high cheekbones and a thin, well-defined jaw line. These features together comprise the 'heart of face' with its base at the top and summit below.
As we age, loss of volume, gravity and loss of the skin's natural elasticity combine to reverse this triangle's composition, leading to a narrower, less youthful forehead and temple area, and a wider, heavier jaw line. The result is an aged, hollow appearance.
Juvederm Voluma can restore this balance and heart-shaped proportions to the face by subtly adding volume to areas where this is lacking due to the effects of ageing or extreme weight loss. The result is a restoration of the inverted triangle of youth back to its original form resulting in a softer and more youthful appearance.
In addition, Juvederm Voluma lasts much longer than some of its filler counterparts, delivering results for up to two years. The advanced injection techniques used by Dr. Clevens and his team of experts make the procedure virtually painless, and as with other injectable treatments patients can resume normal activity right away.