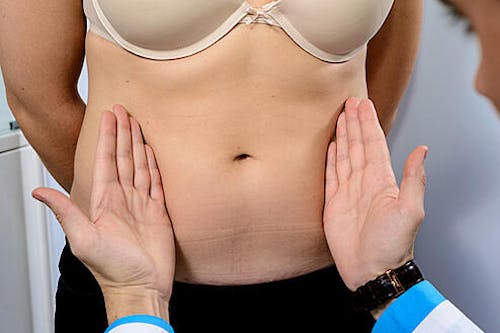 Cosmetic procedures are an excellent option for targeting problem areas and achieving your ideal body shape—but sometimes reaching the desired outcome requires more than one treatment. Pairing multiple plastic surgery procedures is a great way to accomplish full-body contouring and to achieve the specific results you're looking for, without needing to undergo and recover from multiple surgeries.
When one procedure can't address all of your personal concerns, combining certain breast and body treatments might be the best solution. Doing this allows you to get the exact look you want while reducing surgical costs and recovery time in the process. This article will highlight the different breast and body procedures that can be done in tandem to provide more cohesive results, along with the most common scenarios for each combination.
Breast Lift with Breast Augmentation

A breast lift procedure helps to lift and reshape the breast to address sagginess caused by things like aging and/or weight changes. At the same time, breast augmentation can increase volume in the breast with an implant. This combination is common for patients who have concerns that their breasts are both too saggy and too small.
Before you choose your plastic surgeon, read this guide to understand your quote and exactly what you're paying for.
Breast Augmentation, CoolSculpting, and CoolTone
While breast augmentation increases breast size with an implant, CoolSculpting and CoolTone help to improve muscle tone and reduce fat in targeted areas such as the abdomen, thighs, and buttocks. These nonsurgical body procedures can help you achieve optimal results without the need for additional incisions or anesthesia. This is a common combination for young patients who are in good physical shape and have not yet had children.
Tummy Tuck and Liponique Body Contouring
A tummy tuck is an excellent way to remove excess skin and fat while also tightening the abdominal muscles following pregnancy or weight loss. Additionally, Liponique removes fat from selected treatment areas, such as the back, thighs, and arms, when combined with a tummy tuck. This combination is popular with patients who want to reshape their midsection, especially after having children or experiencing a dramatic weight change.
Breast Augmentation, Breast Lift, and Tummy Tuck
Breast augmentation increases volume in the breast with an implant. Meanwhile, a breast lift helps lift and reshape the breast to address sagginess due to aging or weight fluctuation. A tummy tuck also removes excess skin and fat and tightens the abdominal muscles. This is the most popular combination of procedures for a Mommy Makeover, which is ideal after someone is finished having children and looking to get back to their pre-baby body.
Breast Augmentation, Breast Lift, Arm Lift, and Liposuction
Many patients are interested in the breast enhancement procedures discussed above, but are looking for just a little extra. This combination offers a true all-in-one experience. In addition to the already discussed benefits of breast augmentation and breast lifts, an arm lift (brachioplasty) removes excess skin commonly referred to as "bat wings" for a more toned-looking arm contour. Then, liposuction removes fat from target areas to reach the patient's desired results. This is a very common combination of procedures for patients who have recently experienced a significant weight loss.
When it comes to cosmetic surgery, sometimes one procedure just won't help you get the outcome you want—and that's when combining breast and body procedures is the best approach for achieving your ideal results. An experienced cosmetic surgeon who specializes in breast and body procedures can further explain the advantages of combining treatments and recommend the ideal combination for achieving your personal body contouring goals.