Reprinted from Florida Healthcare News
Sally wants to look and feel as best as she can for as long as she can. Now retired, she was a physical education teacher for 30 years. Because of her outdoor lifestyle and lifelong sun exposure, her skin had lost much of its elasticity. Sally noticed that her peers looked younger, and so she decided that it was finally time to do what she had been thinking about since she was in her late fifties.
"I am the caregiver for my husband, so I need to be healthy to do everything around the house, and then some. It's important to me that I look on the outside as youthful and energetic as I feel on the inside."
Sally did some internet research, made some phone calls, and asked her friends and others about plastic surgeons. "Dr. Clevens' name came up over and over again," Sally said, "so I attended one of his seminars and was very impressed by everything he had to say and by the staff that I spoke to." It was comforting for Sally to speak with Nancy, Dr. Clevens' Patient Care Coordinator, about Nancy 's recent facelift surgery .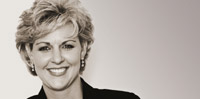 "I am so thrilled to be able to wear this beautiful chain with a diamond pennant. Before my facelift, my neck was so heavy that I either couldn't even fit the necklace around my neck or the diamond became lost in my wrinkles and folds. Now the diamond looks almost as good as my neckline!"
Dr. Clevens remarks "most patients want to look better - not different. Patients seek plastic surgery without looking plastic. Women seek to enhance their feminine qualities while men wish to restore a more youthful angularity to the appearance of their neck and jaw. Combining minimally invasive procedures turns back the hands of time while restoring a natural and rested, more youthful look."
Esther, a long time patient of Dr. Clevens recalls "I didn't like the way I looked. My reflection made me look old, tired and haggard, and I definitely didn't feel that way." That was in 1997, when Esther, a registered nurse, asked doctors around the hospital and friends for the best facial plastic surgery specialist. "It just makes sense to insist upon somebody board-certified in facial plastic surgery and proficient in the latest techniques. I was impressed by Dr. Clevens' credentials and charisma. When I met him, he really instilled confidence in me and the video imaging helped convince me!"
Esther keeps herself in great shape through the activities she loves: skiing, snorkeling, kayaking and lifting weights. Always an avid traveler, Esther particularly enjoys active outdoor vacations like safaris and horseback adventures. She told Dr. Clevens that she wanted her face to match her youthful spirit.
"I just love to look in the mirror now. When my friends at the Orchid Society or Cancer Support Group tell me how wonderful I look, I tell them what I've done. Facial plastic surgery is a great way to improve your appearance!"
Ross A. Clevens, MD, FACS is Brevard's fellowship-trained and board certified facial plastic surgeon. Dr. Clevens is President of the Florida Society of Facial Plastic Surgeons. Board certified by the American Board of Facial Plastic and Reconstructive Surgery, Dr. Clevens specializes in plastic and reconstructive surgery of the face, neck and eyelids. An undergraduate at Yale University , Dr. Clevens completed medical school at Harvard and then pursued specialized training in head and neck surgery and facial plastic surgery at the University of Michigan .
Ross A. Clevens, MD, FACS lectures across the country about his leading edge experience with state-of-the-art facelifting, including the " S-Lift" and the "' Weekend' Necklift." Dr. Clevens recognizes that "people are increasingly busy and small-incision or endoscopic procedures offer fast track healing with fewer 'tell tale' signs of surgery while restoring a strong chin, trim neckline and natural look."
The Weekend Necklift offers rapid recovery and affords little bruising or discomfort. Within a week, most patients return to their normal activities, looking refreshed and feeling fine.
Weekend Necklift
The 'Weekend' necklift may also be combined with other techniques to achieve 'global' facial rejuvenation without the need for conventional facelifting and its prolonged recovery . Endoscopic 'incisonless' brow and cheek lifting may be combined with eyelid surgery and even laser skin resurfacing to achieve a more youthful appearance.
What Is Right for You?
"It is my role," notes Dr. Clevens, "to listen carefully to my patients and then to suggest which technique will produce the best result with the least risk." To help patients visualize the effect of the procedures being discussed, Dr. Clevens may use computerized video images and shares photographs showing the outcomes accomplished with other patients. Computer imaging helps a lot of patients visualize their new look. Seeing before-and-after photos and speaking with other patients instills confidence in the skill and artistry of Dr. Clevens.
Ross A. Clevens, MD, FACS performs his procedures in a fully accredited (AAAHC or JCAHO) ambulatory surgical center with board certified physician anesthesiologists. This important consideration helps to ensure patient safety and comfort.
Dr. Clevens and The Center for Facial Cosmetic Surgery offers the convenience of two office locations for the Center for Facial Cosmetic Surgery: 1344 South Apollo Blvd, Suite 100 , Melbourne and 255 North Sykes Creek Parkway , Merritt Island . For further information or to schedule an appointment, please call the office at 321. 727.3223 or 888.438.3223.