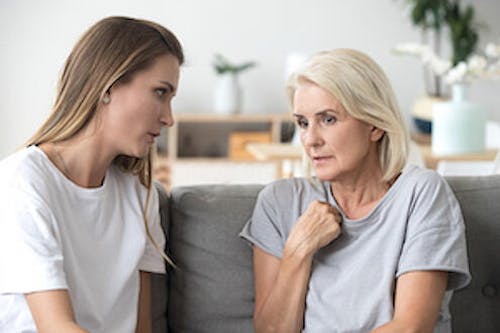 Millions of people explore cosmetic procedures to enhance their natural beauty and boost their confidence. Choosing to have a cosmetic procedure is a highly personal choice—but it's a choice that some people close to you may not understand. This article will address the natural concerns a loved one may feel when their parent, partner, or family member is considering an elective cosmetic procedure.
What are some of the most common objections from family members?
Here are some of the most common concerns expressed by family members about cosmetic procedures.
Health and safety: Family members may fear for your safety and worry about the potential risks and side effects that patients can experience.
Cost: Loved ones may have mixed feelings about spending money on cosmetic surgery.
Elective: Close kin often object to cosmetic procedures because they're elective and can be seen as unnecessary.
Fear of change: Sometimes family members are afraid to see you change because they love you just the way you are.
What are some ways you can address family members' concerns?
Below are some steps you can take to ease family members' concerns.
Explain your reason
What's your "why"? Being open and honest about your motivation is the best way to gain support from your loved ones. Make a list of your reasons for wanting the procedure and share it with your partner, family, and/or friends. Share what this procedure means for you and help them understand your reasons. A plastic surgery journal is a great place to put your reasons down on paper, both to help organize your thoughts and to potentially share them with your loved ones.
Educate yourself and your loved ones
It's important to do your research before having a cosmetic procedure—both for your own benefit and for the sake of addressing loved ones' concerns. By coming to the table with the information you've learned, such as what the surgery entails, potential risks and side effects, your expectations, expense and payment options, recovery time, as well as which specialty surgeon(s) you're considering, you'll be better equipped to educate family members and ease their concerns.
If cost is a friction point, look into taking a phased payment approach or see what financing options are available to help make the expense more manageable to fit your budget.
Get the most our of your consultation. Come prepared with this comprehensive checklist to help you ask all the right questions.
Avoid an argument
Remain calm and try not to get defensive—an argument won't make your case and is likely only to cause more opposition about the cosmetic procedure that interests you. Even if your loved ones become emotional during the conversation, do your best to maintain your composure so you can better express yourself.
Include them in the process
Bring them along to the consultation to allow time for them to learn about the cosmetic procedure and ask any questions they have. This will help ensure you and your loved ones are on the same page about what to expect in terms of risks, recovery, and results.
When should you not get a procedure because of family objections?
Though getting a cosmetic procedure is usually a personal decision, there are some scenarios in which family members are right to have concerns.
For example, your family might be worried about potential health concerns unique to you. In scenarios like these, it may be a good idea to reconsider the timing of your cosmetic procedure. You can always meet a specialist for a consultation to further discuss your options and whether or not you're a good candidate.
When you're planning to have a cosmetic procedure done, addressing family member concerns is important. After all, you likely want their support and may need help during your recovery. That said, the most important thing is how you feel about your decision to have a cosmetic procedure—not to mention the results!