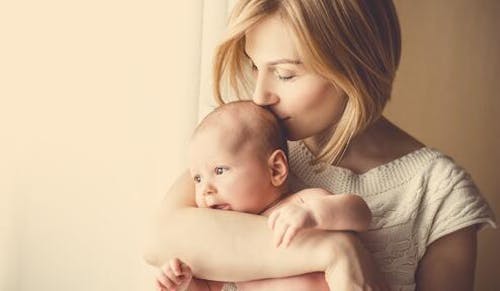 Even if you return to your pre-baby weight after a pregnancy, you may still notice a difference in your belly's appearance. If you're ready to get rid of that belly bulge and feel more like yourself, there are some great cosmetic procedures to consider.
What Causes Belly Bulge After Pregnancy?
There are a few reasons you may notice a belly bulge that doesn't go away after having a baby. These often include musculature, skin, and fat.
Stretched Muscles
As your belly expands during pregnancy, your abdominal muscles stretch. When these long vertical muscles pull away from each other and do not return to their previous state after pregnancy, you can be left with a gap in the middle and a noticeable belly bulge. This condition, known as diastasis recti, continues to affect about a third of women at 12 months postpartum. It can cause some physical discomfort and weakness, in addition to changing the appearance of your midsection.
Stressed Skin
Another part of your body that stretches during pregnancy is your skin. Especially as we age, skin loses some of its natural elasticity, which can leave you with a flabby appearance across the belly, even if there is no excess fat.
Fresh Fat Deposits
For many women, fat around the tummy can be a problem as well. This fat can be difficult to lose as hormones shift postpartum. You may find that that pesky belly bulge just won't go away, even with diet and exercise.
When Should You Treat Your Belly Bulge?
Thankfully, regardless of what's causing your belly bulge, there are treatment options that can help you regain your pre-kid body. But how do you know when you should take decisive action with a cosmetic procedure?
The body can be impressively resilient, so give yourself some time after having a baby to let your body heal. Though there is nothing inherently harmful about cosmetic procedures postpartum or during breastfeeding, it's best not to rush into plastic surgery because your body may still be changing and rebounding on its own.
Though not required, our breast and body plastic surgery experts typically recommend waiting to treat your belly bulge until you're finished having children to maximize the benefits of surgery. This way, you can be sure to enjoy your results long-term.
Overall, it's best to consult with your doctor and discuss your situation with your surgeon to determine if now is the right time to correct your postpartum belly bulge.
What should you be doing NOW to ensure you age gracefully? Check out our guide, Cosmetic Procedures For Every Decade Of Your Life."
The Most Popular Procedures For Getting Rid Of Postpartum Belly Bulge
A Mommy Makeover can include various procedures to address problem areas after having kids and help moms get their confidence back. Two of the most popular procedures we use to address belly bulge include liposuction and tummy tuck, both of which offer long-term results.
Liposuction
The belly is the most popular treatment area for our signature Liponique custom body contouring, known more commonly as liposuction. This is a highly effective procedure for removing isolated pockets of fat on the upper and/or lower belly that won't budge with diet and exercise.
Every liposuction procedure is customized to the individual patient. Generally, this is a minimally invasive procedure where the specialist makes a very small incision and inserts an instrument that suctions the fat away.
Recovery depends on the exact treatment. Because the procedure is minimally invasive, some patients can return to work the very next day, though others may need up to a week to recover. Patients wear a compression garment to support their healing for up to four weeks after the procedure. Moms should note that it's best to avoid strenuous activities for six weeks.
Tummy Tuck
An abdominoplasty, or "tummy tuck," is another great option to consider. A tummy tuck can deliver the most extensive results for improving the appearance of your belly. Like liposuction, this procedure can remove excess fat. Unlike liposuction, it can also reduce loose skin and tighten muscles in the abdomen.
Abdominoplasty is a surgical procedure that can take different forms depending on the technique the surgeon chooses to employ. Your surgeon can determine the best way to resculpt your abdominal area to help you regain or even improve upon your pre-kid body.
Because a tummy tuck is a surgical procedure, patients should prepare for about 10-14 days of recovery before resuming normal work. It can take up to six months to heal completely. You should also avoid strenuous exercise for six weeks.
Other Procedures to Improve Your Abdominal Appearance
In addition to the popular procedures above, some other treatment options you may want to consider include:
To determine the ideal treatment options for you, it's best to meet with a specialist to discuss your body and your goals. Schedule your consultation with our team to learn more about how you can enjoy motherhood and maintain your confidence with a slimmer, firmer figure—so you can look and feel your best.