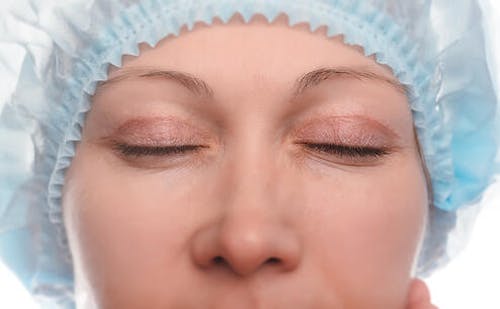 You're still happy, youthful, and energetic, but over time you've noticed that your eyes are beginning to tell a different story. Lately you've found yourself staring into the mirror and pulling back loose, sagging skin around your eyelids, wishing your appearance reflected how you feel inside. And to top it off, people are constantly asking if you're tired—even right after a full night's rest.
Sound all too familiar? The good news is that there are several cosmetic procedures available to improve the appearance and function of the eyes. And blepharoplasty is one of the most effective and beneficial of them all.
This article will cover everything you need to know about eyelid surgery, from what exactly the procedure entails to what you can expect in terms of recovery and results.
What is blepharoplasty?
Blepharoplasty, commonly referred to as eyelid surgery, is a combination procedure designed to tighten and lift sagging skin around the upper and lower eyelids. These procedures dramatically improve sagging upper eyelids and under-eye bags, as well as increases your field of vision, by repositioning fat, tightening muscles, supporting tendons, and removing excess skin around the eyes. i
Eyelid surgery is one of the most in-demand cosmetic procedures, with more than 206,000 performed in 2018 in the US alone. Blepharoplasty is so popular because the eyes are often the first to be visibly impacted by the aging process. As we age, our eyelids begin to stretch while the muscles that support them start to weaken.
In fact, it's completely normal to begin noticing signs of a tired or fatigued appearance as early as your thirties. This can sometimes be caused by a hereditary condition that runs in your family, and luckily, this can be addressed early on.
What happens during blepharoplasty?
Blepharoplasty is either performed under local anesthesia with sedation or general anesthesia, depending on your unique situation and needs. Some people opt to have only one procedure done, and others get both upper and lower eyelid surgery done at the same time.
During upper eyelid surgery, the facial plastic surgeon makes a tiny incision along the natural crease in the eyelid to remove any excess fat, skin, muscle, and tissue that contribute to creating a chronically sad or tired appearance. During lower eyelid surgery, an "invisible" incision is made inside the lower eyelid to remove extra fat and tighten sagging skin.
Depending on the case and whether any other procedures are being performed at the same time, eyelid surgery usually lasts around one hour. If you decide to have blepharoplasty, make sure your procedure is performed in a state-licensed, fully accredited ambulatory surgical center to ensure your safety and comfort.
Who is a good candidate for eyelid surgery?
People often wonder whether they're good candidates for eyelid surgery, especially if it seems like it's too early in their life or they're only just starting to see visible signs of aging. If you look in the mirror and feel you look sad or tired, with bagginess or heaviness around your eyes, you may be a great candidate for upper and lower eyelid surgery.
Generally speaking, the best candidates for blepharoplasty are men and women who are physically healthy. That's right, men are blepharoplasty candidates too—in fact, eyelid surgery is one of the top five cosmetic procedures that men pursue.
It's also important that blepharoplasty candidates are realistic in terms of their expectations. For example, the procedure will not correct sagging brows or deep lines and wrinkles, which is an important consideration for any individual who is thinking about getting eyelid surgery. Cosmetic procedures such as a brow lift or Botox can help with sagging brows and wrinkles.
Request a consultation to speak with our expert team
What is the recovery like after blepharoplasty?
Following the procedure, patients can expect to have some swelling and bruising for 1-2 weeks. As with any surgery, there are very rare risks; some people also experience dryness, itching, burning, excess tear production, sensitivity to bright light, and blurred or double vision. For best results, seek out an experienced facial plastic surgeon who specializes in blepharoplasty and has a dedicated clinical team to support you during recovery.
Most patients will require about a week off of work after blepharoplasty. It is critical to avoid all exercise and other strenuous activities for several weeks following surgery to support recovery and ensure optimal results. In order to allow the incisions to heal properly and minimize risk of infection, it's also important to wait at least 2-3 weeks before wearing makeup after eyelid surgery. Makeup is irritating to fresh incisions and can introduce dangerous bacteria that will stall the healing process.
What are blepharoplasty results like?
Eyelid surgery restores a refreshed and youthful appearance to the eyes. As long as they go in with realistic expectations for the results, most people are thrilled with the outcome after their recovery process. Experienced surgeons can achieve results that look very natural, as scars are nearly (or completely) invisible thanks to incision locations such as the natural crease in your skin that allow them to be hidden.
Results should last for 10-15 years or more, but it is important to remember that blepharoplasty does not stop the aging process—it just sets it back a bit. To achieve ideal, lasting results, it's very common for patients to combine upper and lower blepharoplasty with other cosmetic procedures. For example, eyelid surgery is often performed in conjunction with a facelift, brow lift, forehead lift, or laser skin resurfacing to rejuvenate the skin and erase wrinkles.

An experienced specialist in facial plastic surgery (and blepharoplasty specifically) can make a customized recommendation on the best combination of procedures to meet your unique goals. When speaking with a specialist, you can ask to see before and after photos, which are a great way to learn what you can expect from eyelid surgery
What do real patients say about blepharoplasty?
You can learn a lot by looking up patient testimonials on RealSelf and your surgeon's website. Check out what a few real blepharoplasty patients had to say about their experience and results:
"Awesome result!!! I am so glad I did my research and found this procedure after years of fillers and still dealing with dark hollows under my eyes. My results could not be better. I keep getting mistaken for someone in her 20s and trust me that hasn't happened in a LONG time—including when I was still in my 20s!" –Eliza B.
"My eyes came out perfect but not super drastic or obvious. I look ten years younger and am very happy with the results." –Greg M.
"I couldn't be happier with the results of my once-droopy eyelids. The procedure was easy and recovery was smooth. Amazing outcome for money and recovery time. Strangers are constantly telling me I look younger than my age. Not only does my appearance look better, I am able to SEE better! My lids bothered me for years; I couldn't wear eye shadow and the hanging skin just made me feel old. Now my lids are TIGHT and smooth! Hope I get 10-15 years out of it and then I would absolutely do it again!" –Dee R.
Get the specialist advantage: Choose an experienced surgeon.
If you want to improve under-eye bags, drooping and sagging skin, and deep lines and wrinkles, blepharoplasty can be a truly life-changing experience—and a wonderful investment in yourself and your future. From saying goodbye to under-eye sagging to increasing your field of vision, there are a number of benefits to moving forward with eyelid surgery and restoring your youthful appearance.
However, the recovery and results are dependent on your unique situation and the doctor you choose to perform the procedure. That's why it is essential to seek out a cosmetic surgeon who specializes in facial plastic surgery and who has significant experience performing both upper and lower blepharoplasty. By choosing an expert specialist, you can minimize scarring, set yourself up for a smooth recovery, and achieve natural-looking results that completely transform your appearance.
If you're interested in pursuing blepharoplasty in Melbourne, Florida, to rejuvenate and refresh your face, schedule your consultation with Clevens Face and Body Specialists to ask any questions you have, find out if you're a good candidate, and learn what you can expect in terms of results.