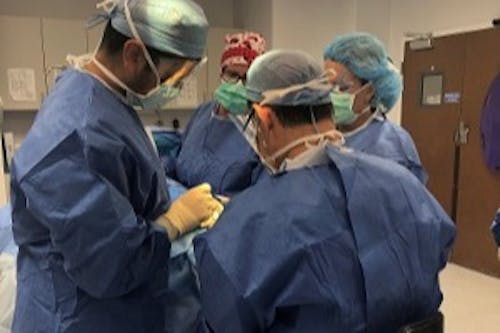 Having plastic surgery is a life-changing experience. Time and time again, plastic surgery proves to be a significant confidence booster for men and women alike.
However, not all surgeons are equally qualified to perform cosmetic procedures, and selecting an unqualified doctor could be life-changing in the worst way. Choosing a reputable plastic surgeon with the right training and expertise is essential for achieving your desired results. That's where board certification comes in, and why it's an important factor when selecting a plastic surgeon.
To help you understand the significance of plastic surgeon board certification, this article breaks down what it is and why it matters so much when picking someone to perform your procedure.
What Is a Board Certification For Plastic Surgeons?
Board certification is one of the first and most important things to ask about when evaluating and choosing between plastic surgeons. When a plastic surgeon is board-certified, it signifies they possess the knowledge, training, and skill to perform various procedures in their specialty. Once a surgeon earns their board certification, they must also maintain it, which demonstrates a commitment to refining their specialty over time.
However, it's not enough to ask, "Are you board certified?" You also want to ask, "By what board?" Many people don't even know that there are different medical boards for different specialty areas. So a plastic surgeon can claim, "I'm board-certified," but actually be certified in another medical specialty, such as ophthalmology or gynecology—which is not quite the specialist you had in mind!
Why Does Plastic Surgeon Board Certification Matter?
When undergoing plastic surgery, you want to be in the most experienced, qualified hands possible to achieve an ideal outcome and minimize the risk of complications, visible scarring, and other adverse results.
There are numerous benefits to choosing a specialist, so look for a board-certified plastic surgeon who is experienced in the procedure(s) and area that interests you. Board certification offers patients peace of mind when choosing a plastic surgeon, because it means the physician in question has completed extensive training and passed comprehensive exams in their specialty area.
In fact, research shows that the more experience a surgeon has, the better the surgical outcomes. Here's how Ross A. Clevens, MD, FACS, explained the relationship between experience and results:
Experience is the birthplace of innovation and the development of new, more advanced techniques that build on the foundation provided by your own teachers. Seasoned physicians are the ones contributing to research in their field, creating new approaches based on their experience, and sharing their expertise with both peers and students who want to refine their craft.
Get the most out of your consultation. Come prepared with this comprehensive checklist to help you ask all the right questions.
How To Select a Plastic Surgeon With the Right Board Certification
There are a variety of board certifications for different specialty areas within plastic surgery, each of which has its own qualifying requirements. For example, if you're interested in having a facial plastic surgery procedure, such as rhinoplasty or blepharoplasty (eyelid surgery), you'll want to look for the medical board that provides board certifications within that specialty area: facial plastic surgery.
On the other hand, if you're pursuing a breast or body procedure, such as breast augmentation or a tummy tuck, you'll want to find a plastic surgeon who's certified by the board within that specialty area instead. You can confirm whether or not your plastic surgeon is certified by a particular medical board by using the physician search function on the certifying board's website.
Here are a few board certifications to look for, depending on your procedure of choice:
Facial Plastic Surgery Procedures
American Board of Facial Plastic and Reconstructive Surgery (ABFPRS)
The ABFPRS was established to examine professional expertise in facial procedures. ABFPRS certification signifies that a surgeon has completed a residency in either otolaryngology (head and neck surgery) or plastic surgery following medical school.
To earn ABFPRS board certification, surgeons must successfully complete a two-day exam and submit for peer review an acceptable record of at least two years clinical experience, as well as the post-operative reports for at least 100 facial plastic surgeries. The most qualified facial plastic surgeons are "double boarded" or certified by both the ABFPRS and ABOHNS. Our facial plastic surgery specialist, Ross A. Clevens, MD, FACS, is double board-certified, including specialty certification by the ABFPRS. Dr. Clevens has over 20 years of experience and has completed more than 10,000 surgical cases.
American Board of Facial Cosmetic Surgery (ABFCS)
The ABFCS is a multi-specialty medical certifying board that awards certifications to surgeons who are uniquely qualified via training, experience, and credentials to perform facial cosmetic surgery. ABFCS board certification indicates that a surgeon has dedicated their practice to cosmetic procedures for the head, face, and neck.
Qualifications for the ABFCS are one of the most rigorous of any board dedicated to facial rejuvenation. To earn ABFCS certification, surgeons are required to complete both a written and oral exam, which cover everything from specific facial plastic surgery procedures to dermatology, surgical principles, and patient safety. Additionally, surgeons are required to have completed an accredited fellowship in facial cosmetic surgery, or a minimum number of facial surgical procedures over a two-year period sufficient to demonstrate experience and expertise in facial cosmetic surgery.
Breast and Body Contouring Procedures
American Board of Plastic Surgery (ABPS)
ABPS board certification requires successful completion of both a written and oral exam, as well as five years of clinical general surgery residency training and three years of plastic surgery training. Certification includes continuous self-assessment and practice improvement throughout the certification period(s). Our plastic surgeon who performs breast and body surgery is board-certified by the ABPS.
Beyond Board Certification: Other Factors To Keep In Mind
Even with board certification, it's important to remember that not every plastic surgeon performs or specializes in every procedure. In other words, board certification offers peace of mind, but it doesn't necessarily guarantee results. There are many other factors to consider when choosing a plastic surgeon to ensure you're in the right hands, such as education and training, surgical track record, pictures of their results, online reviews and testimonials, and their rapport with patients.
If you're considering having plastic surgery and curious about the procedure that interests you, the best next step is to meet with your plastic surgeon and ask any questions you may have. Schedule your consultation with one of our specialist plastic surgeons to discuss your personal goals for your results and to learn more about our team's expertise.