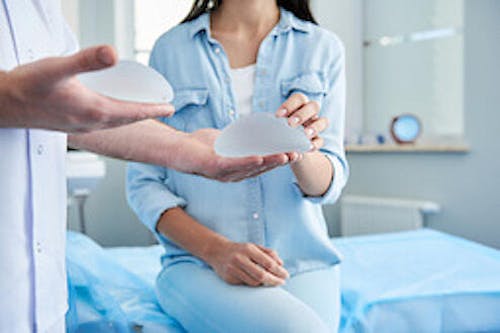 From silicone to saline and teardrop to round, there are many factors that play into the aesthetic outcome of a breast augmentation. If you're considering having a breast augmentation procedure done, you're probably curious about the different types of implants that are available to you. Selecting which implant type, shape, and size you want is an important decision—and being informed about the pros and cons of your options is the key to making the right choice.
We'll dive into the different options and their results to better help you determine the breast augmentation outcome you're looking for.
Choosing an Implant Type: Saline vs. Silicone
Saline implants come empty. During surgery, they are filled with saline solution from an IV solution bag—essentially the same type of solution as a hospital IV.
Because saline implants are essentially bags filled with water, they tend to have a feel similar to a water balloon. They can also wrinkle and ripple over time, with a little more wrinkling at the edges of the implants. Ruptures are extremely rare, but if they happen to rupture, saline implants will go completely flat because the fluid leaks out immediately.
Silicone gel implants are pre-filled with a thick gel, which makes the part that touches you a solid silicone. Silicone implants also look and feel significantly more like natural breasts than saline implants. They also tend to wrinkle and ripple a little bit less than saline implants do. Because silicone implants are made of a cohesive gel and not a liquid, if an implant ruptures, it will not immediately go flat.
As a result, most women are choosing the more modern silicone implants over saline. However, both silicone gel and saline implants are approved by the FDA and available to you—it all comes down to personal preference.
Get the most our of your consultation. Come prepared with this comprehensive checklist to help you ask all the right questions.
Selecting an Implant Shape: Round vs. Teardrop
Implant shape is another factor when you're considering a breast augmentation procedure. Smooth, round silicone gel implants can help you achieve a result that looks and feels more like natural breasts. The gel is cohesive and not liquid, yet still soft enough that it moves with you. For example, round silicone implants look like teardrops from the side when you are standing up. When you lie down, round implants go flat, much like a natural breast would.
Alternatively, some breasts implants are pre-made in a teardrop shape—which we're not as much of a fan of at Clevens Face and Body Specialists. This is because all implants tend to rotate once they're inside the body, so no matter where the round implant is sitting when you stand up, it looks like a teardrop shape. However, if the pre-shaped teardrop implants rotate, they can end up looking like a different, less natural shape when you stand up.
In some cases, patients who choose teardrop implants end up needing to have corrective surgery because they're unhappy with the shape they selected. As such, most patients decide to go the round route when choosing an implant shape—but of course, just like the implant type, it's all a matter of preference.
Choosing the type and shape of breast implant that you'd like to move forward with is a big decision, and certainly not one to be taken lightly. If you're curious about breast augmentation but have questions about the options available to you, visit a board-certified plastic surgeon who specializes in body-specific procedures for a consultation. An experienced specialist can make personalized recommendations based on your goals, manage your expectations for the procedure, and help you achieve an end result you love.