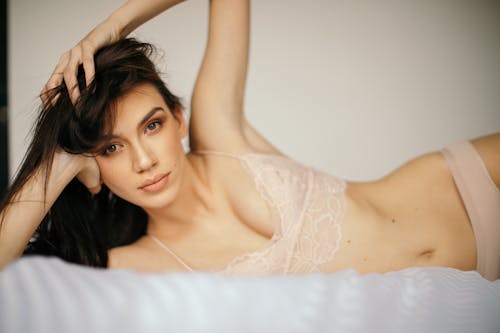 Many patients who initially seek aesthetic breast surgery wonder about the difference between a breast augmentation versus a "breast lift," also known as a mastopexy. Patients often are curious about which of these two popular procedures will accomplish their goals and give them a beautiful result.
Breast augmentation is a cosmetic procedure that involves placing an implant, made of saline or silicone, either under your breast tissue or under your pectoralis muscle – the muscle you use when doing push-ups. A breast augmentation can add volume to your breasts to make them bigger. Many women seek breast augmentation to achieve a larger and fuller upper pole of the breast, as well as more visible cleavage.
A breast augmentation surgery can be performed on someone with very little breast tissue, and when their native breast does not droop significantly below the lower crease of the breasts. Breasts that descend below the lower crease are called "ptotic" because they have descended below that crease. This happens due to either weight gain with excessive weight loss, aging, pregnancy, or breastfeeding.
The incisions for a breast augmentation can be concealed easily under the lower breast crease, around the lower part of the areola, or through the armpit. Most plastic surgeons utilize the "under your breast crease" incision, as it provides good exposure and control of the pocket for the implant.
Recovery from breast augmentation is typically quick. Many patients feel "back to normal" within two or three days. Discomfort is minimal and easily managed with prescription medications. Most patients return to desk work quickly. However, we recommend patients perform no movements above their arms for about four to six weeks.
Non-implant-based breast augmentation is performed by fat grafting to the breast. Women may seek this alternative if they do not want breast implants and instead prefer their own tissue. There are potential downsides to the procedure which include not having enough areas for fat to be harvested, and loss of fat grafts placed into the breast. This can lead to lumpy areas where the fat was placed and gives an undesirable result if not performed correctly.
A breast lift may benefit you if your breasts have a saggy appearance and have descended from aging, prior massive weight loss, pregnancy, or breastfeeding. Many women complain that they want a lifted breast that is more rounded in shape and achieves a more "perky" look. A breast lift addresses the problem of "droopy breasts" that many women want to solve.
During a breast lift, incisions are used to remove skin and lift the breast into a more youthful position. This can also be done through a variety of techniques. If your breast has minimal ptosis and you have larger areola, you may be a candidate for a donut mastopexy, in which a crescent-shaped incision is made and the nipple-areola complex is brought up to a higher position. This technique requires a special suture that tightens the areola so it prevents spreading.
A very common technique is the vertical mastopexy or a lollipop incision. This incision goes around your nipple and areola and down the vertical portion of the breast. The excess skin is removed and the breast tissue is reshaped to achieve a beautiful lifted appearance.
Lastly, if a patient has extremely droopy breasts, she may require an "anchor" or T-incision to get the excess skin and breast lifted into a position that meets her goals. This pattern involves making incisions around the nipple, down the breast, and in the crease. This incision pattern can give the support and contour that a lollipop incision may not be able to achieve. All breast lift incisions heal well and fade over time, and can become inconspicuous.
Many times, a combination of both procedures is used to achieve a patient's desired appearance. This is called a breast augmentation mastopexy, or breast augmentation with lift, and can be done in a one-stage or two-stage fashion. Medical literature shows that augmentation mastopexy can be done in a single stage with overall beautiful results and low complication risk. This procedure is more technically challenging but can provide the optimal result for patients that have deflated breasts and are looking for a lift with added volume.
Some patients have special considerations when deciding either between breast augmentation and breast lift. One example is "tuberous breasts" which occur when an area of tissue constricts normal breast tissue, leading breasts to appear smaller with a large areola. Treatment for this condition usually involves releasing the tissue causing constriction, along with the placement of a breast implant. With a patient-centered approach, the plastic surgeon and patient work together to achieve the desired outcome.
Another rare condition that may cause patients to seek breast augmentation is known as Poland Syndrome. In this case, the chest muscle (or pectoralis major) is absent from birth, creating a noticeable difference between the contours of the chest. Poland Syndrome is usually diagnosed early in childhood, but mild conditions may go undiagnosed. Treatment for this condition can be a breast augmentation with possible fat grafting to correct contour irregularities. However, severe cases may require advanced reconstruction.
Overall, many factors come into play when deciding on aesthetic breast surgery. Outcomes and satisfaction after aesthetic breast surgery are great, leading to increased self-esteem and increased overall self-confidence. A consultation with a plastic surgeon is the best way to find out which procedure or combination of procedures is right for you.