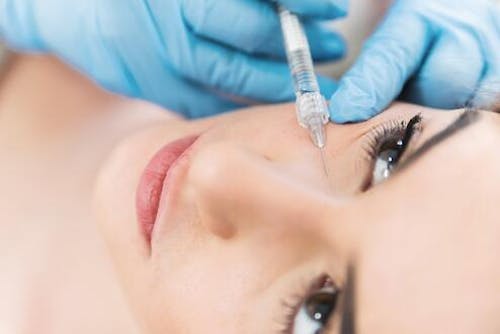 Think you need to have surgery to reduce sagging and wrinkles? Think again! While in the past only a surgical facelift (rhytidectomy) was available, today there are nonsurgical alternatives, thanks to modern advancements in facial plastic surgery.
Liquid facelifts are a game-changer, delivering natural-looking results without the need for surgery, incisions, downtime, or anesthesia. If you're ready to kiss your sagging skin, wrinkles, and frown lines goodbye, a liquid facelift may be the perfect treatment option for you. This article will break down the liquid facelift, defining what the procedure entails, as well as the benefits and results you can expect.
What Is a Liquid Facelift and How Is It Performed?
A liquid facelift is a nonsurgical procedure that uses injectable fillers such as hyaluronic acid or your body's own fatty tissue to achieve a lifted, rejuvenated appearance without surgery. Fillers plump up the skin and reduce lines, sagging, and wrinkles to refresh your appearance and help you appear more youthful.
For many people, a liquid facelift is a highly effective alternative to a surgical facelift—especially for those with less severe wrinkles, more shallow skin folds, and mild neck laxity. Patients who have more severe wrinkles, deep folds, sagging skin, and/or neck laxity may be better surgical facelift or neck lift candidates. A facial plastic surgeon with an expert understanding of facial anatomy can assess your problem areas and desired results to determine whether a surgical or nonsurgical approach is best for you.
Additionally, a liquid facelift can be combined with Botox to treat the "elevens" located between the brows, as well as forehead lines and crow's feet to achieve full-face rejuvenation without surgery. Lip augmentation using filler and liquid rhinoplasty are other nonsurgical cosmetic treatments that can be combined with a liquid facelift for an optimal outcome. It's also common for patients to have laser skin resurfacing in combination with a liquid facelift to improve the quality and texture of your skin for a smooth, glowing complexion.
A liquid facelift delivers instantaneous results that can last anywhere from six months to a couple of years, depending on which fillers are used and where they're placed. Best of all, there's no downtime or recovery whatsoever—just a quick treatment and you're on your way, rejuvenated and refreshed!
What should you be doing NOW to ensure you age gracefully? Check out our guide, Cosmetic Procedures For Every Decade Of Your Life."
What Key Areas Are Treated During a Liquid Facelift?
One of the first concerns people have regarding a liquid facelift is which areas it can treat. During a liquid facelift, several areas of the face can be targeted, based on your specific preferences and desired results.
A liquid facelift can treat the following areas of the upper half of the face:
Forehead: Smooth out wrinkles to diminish forehead and frown lines.
Under the Eyes: Restore volume and correct dark circles under the eyes.
Temples: Minimize crow's feet and restore volume in the temples.
Eyebrows: Smooth and tighten wrinkles around the eyebrows.
A liquid facelift can treat the following areas of the mid-face:
Cheeks: Lift and augment cheeks that have lost volume over time.
Nasolabial Folds: Smooth and diminish nasolabial folds (smile lines).
A liquid facelift can treat the following areas of the lower half of the face:
Around the Mouth: Smooth wrinkles to diminish marionette lines.
Chin and Jawline: Add and restore definition to the chin and jawline and balance these facial features.
Jowls: Tighten sagging skin to minimize the appearance of jowls.
Upper Neck: Contour your upper neck to decrease skin laxity.
What Are The Benefits To Choosing a Liquid Facelift?
If you're evaluating your options to choose from a surgical or nonsurgical facelift, there are several important factors to consider. Some of the key benefits to choosing a liquid facelift include:
Minimally Invasive
One of the biggest pros for a liquid facelift is the fact that it's a nonsurgical procedure that requires no incisions, downtime, anesthesia, or potential for scarring. It's also nearly painless with minimal side effects. Some patients may experience slight discomfort, fullness, bruising, and/or redness.
At our plastic surgery practice, we use Clevens Comfort+, an inhalant that minimizes discomfort and anxiety during nonsurgical procedures, to make liquid facelifts pain-free. Side effects can also be greatly minimized when your liquid facelift is performed by an experienced facial plastic surgeon. Our surgeons specialize in performing injectable treatments using a cannula, which has proven to minimize bruising and swelling following a liquid facelift.
Convenience
Many patients appreciate the convenience factor: No time required off work, virtually no recovery period, and a quick, fast-acting procedure? Yes, please! Liquid facelifts usually take less than 30 minutes and can typically be done in one session, as opposed to a surgical facelift with a recovery period.
More Affordable
Liquid facelifts are more affordable than surgical facelifts, costing from $3,000-$8,000 on average, whereas surgical facelifts cost upwards of $15,000. Keep in mind that these are only estimates; the actual cost depends on your location, as well as the type of treatment and amount of filler used.
Maintenance Treatments
Another benefit to going the nonsurgical route is that a liquid facelift can be used as a follow-up treatment to a surgical procedure. In other words, you can have a liquid facelift to enhance and maintain your surgical facelift results and protect your investment.
Customizable
Liquid facelifts are completely customizable to meet your specific needs and achieve your ideal results. Your facial plastic surgeon can customize both the placement and type of filler used in each area for the best outcome possible.
Customizing Your Liquid Facelift With the C-Lift
At Clevens Face and Body Specialists, we offer the Clevens Lift or "C-Lift", our exclusive liquid facelift that's customized specifically for you. Created by our double board-certified facial plastic surgeon, Ross A. Clevens, MD, FACS, the C-Lift is the ideal cosmetic treatment to improve signs of aging without surgery. It's the perfect solution for men and women looking to add natural facial definition.
During the C-Lift procedure, Dr. Clevens uses a combination of relaxers and injectable fillers based on a full-face assessment and your personal goals for your appearance. To learn more about the C-Lift and whether you're a good liquid facelift candidate, schedule your consultation with Dr. Clevens and his team.
During your C-Lift consultation, we'll perform a full-face analysis, discuss the best treatment options for you, and help you make an informed decision—so you can move toward making your liquid facelift a reality!