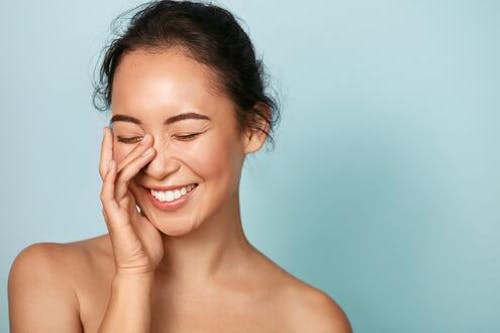 Maintaining the health and appearance of your skin becomes more of a priority with each passing decade. Taking proper care of your skin can help you maintain a youthful look and spot potential conditions and concerns early. For some people, that means sticking to a medical-grade skincare regimen, whereas others might seek out different procedures and treatments—which is where the dermatology and plastic surgery debate comes into play.
Learn all about the similarities, differences, and advantages to seeing a board-certified facial plastic surgeon for skin and dermatology services.
Dermatology and Plastic Surgery: What's the Difference?
Despite the inherent differences between dermatology and facial plastic surgery, there are still a few similarities, primarily when it comes to nonsurgical procedures they offer and areas they treat. This overlap may include:
Basic skin cancer care
Scar/burn revision
Botox and fillers
Fat reduction
Skin tightening
Laser treatments
Chemical peels
Hand rejuvenation
Primary differences between dermatology and facial plastic surgery include training, ability to perform surgical procedures, type of board certification, superior knowledge of facial anatomy, and scar minimization expertise. In terms of training, facial plastic surgeons have more "arrows in their quiver," to say the least. This is because while dermatologists are clinically and medically trained, facial plastic surgeons are dual-trained in both medicine and surgery.
Essentially, what this means is facial plastic surgeons can provide all solutions, both surgical and nonsurgical, whereas dermatologists are only qualified to offer nonsurgical solutions. On top of that, dermatologists have a minimum training requirement of four years, while facial plastic surgeons have a minimum training requirement of six years with advanced surgical training in their specialty area.
Because of their comprehensive training, facial plastic surgeons possess more detailed anatomical knowledge, which helps contribute to achieving better and safer results. Additionally, there are different certifying boards for dermatology and plastic surgery, as well as for facial plastic surgery in particular.
Why Should You See a Facial Plastic Surgeon For Skin Care?
There are several advantages to seeing a facial plastic surgery specialist like Ross A. Clevens, MD, FACS, for cosmetic procedures, instead of seeing a dermatologist.
Education and Training
Although not all dermatologists are trained on cosmetic procedures, facial plastic surgeons specialize in this area and receive specific training designed to address skin concerns and treat conditions, while also accomplishing the following:
Preserving healthy tissue
Factoring in both medical, surgical, and aesthetic considerations
Because facial plastic surgeons undergo substantial education and training, in addition to passing a state exam and completing a residency and fellowship, they're often the most knowledgeable medical providers available to address skin concerns. In addition, they're also thoroughly trained in several complementary aspects of medical and surgical management of the skin, hair, face, neck and eyelids.
Extensive Knowledge
Along with extensive skin knowledge, facial plastic surgeons also possess unique, detailed knowledge of the anatomy of the blood vessels, muscles, tissues, and nerves of the face, head, neck, and eyelids. This means surgeons, unlike dermatologists, can go beyond a "skin deep" approach to consider the underlying structures of the face when assessing patient needs, developing treatment plans, and performing procedures. Facial plastic surgeons like Dr. Clevens know just how to achieve the best possible outcome and address areas of concern, without sacrificing your cosmetic results.
MOHS surgery is a great example of a surgical procedure facial plastic surgeons perform to safely remove skin cancer, while also taking steps to preserve healthy tissue and minimize scarring. Scars can be minimized or prevented in numerous ways, and in the hands of an experienced specialist, they can be reduced until they are barely perceptible, or even completely invisible.
Here's how one of our facial surgery patients spoke about his personal experience:
"As a homegrown Floridian, I have been in the sun all my life. Over the past couple years, I developed a sore on my right cheek that comes and goes in the same spot, but never healed fully. My daughter had me go to a plastic surgeon to get it checked. Upon seeing Dr. Clevens and getting it biopsied, he determined it needed to be excised and removed. I was fortunate that I didn't need a full MOHS procedure but it was pretty deep. Unsure of the exact cost because it was covered by insurance. I am two months out, and my face has healed great and I have minimal scarring and am using biocorneum and starting laser scar treatment." —Bob Rockledge, review on RealSelf
Variety Of Procedures
As we mentioned earlier, many dermatologists stick to treating topical issues with non-invasive procedures, whereas facial plastic surgeons specialize in both minimally invasive and surgical skin procedures. However, it's important to keep in mind that not every concern can be addressed with a non-invasive approach. Unlike dermatologists, facial plastic surgeons can draw on their extensive knowledge and experience to custom-tailor each procedure and treatment to your specific needs.
For example, not every facial rejuvenation patient requires plastic surgery. Some may require a surgical facelift procedure to address skin laxity, whereas others may benefit from injectable fillers alone. Plus, either of these options are available via a facial plastic surgeon; however, a dermatologist is not trained or qualified to perform a facelift.
Seeking Out a Facial Plastic Surgeon For Dermatology
Enlisting the expert guidance of a board-certified facial plastic surgeon will allow you to get the treatments you need to restore a healthy and youthful appearance, while also identifying and addressing potential skin concerns. At our plastic surgery practice in Brevard County, Florida, we pair skin cancer care specialists with Dr. Clevens to form a specialized dermatopathology team for each patient.
Along with performing a wide array of surgical and nonsurgical skin procedures ranging from facelifts and eyelid surgery to Botox, liquid facelifts, and chemical peels, we also offer the Clevens Signature Skincare Collection, which is exclusively available at our practice. Dr. Clevens designed his signature skincare line to build collagen, stimulate cellular rejuvenation, and help each patient achieve smooth, radiant skin.
Our collection includes everything from cleansers and toners, to serums, moisturizers, and targeted treatments to address specific areas of concern—meaning whatever your skin care goals are, we can meet (and exceed) them!
Considering enlisting the expert guidance of a facial plastic surgeon to treat skin conditions? Schedule your consultation at either of our Melbourne and Merritt Island locations to learn more about our skin and dermatology services.