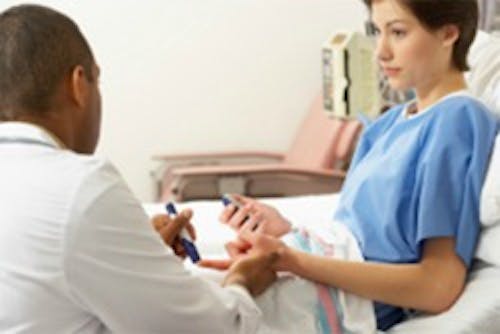 Is your diabetes stopping you from considering a brow lift or facelift? If you are concerned about the effect your condition will have on the surgery's results—like anyone— you should do your research first. While diabetics do have an increased risk of complications from any type of surgical procedure, having diabetes doesn't necessarily mean plastic surgery is off the table. Your surgeon can work with you to reduce your risks.
Risks of Cosmetic Surgery
One of the biggest risks for diabetics having surgery is that high blood sugar levels interfere with your body's ability to heal. A study published in October 2013 in the journal "Plastic and Reconstructive Surgery" found that patients with very high blood sugar (over 200) were more likely to have complications in their surgical wounds after having surgery to correct wounds related to their condition.
An occurrence known as wound dehiscence, which happens when the surgical incision re-opens after the procedure, took place in 44 percent of patients who had blood sugar levels above 200. A normal blood sugar level is 100, or 140 if tested after eating. Just 19 percent of patients with normal blood sugar levels before surgery had wound dehiscence, according to the study.
Having elevated hemoglobin A1c levels also increased a patient's risk for wound dehiscence. High A1c levels suggest that a patient has had difficulty managing his or her diabetes. The issue with wounds reopening after surgery was three times more likely to occur in patients with elevated A1c levels.
Request a consultation to speak with our expert team
The Effect of Surgery on Blood Sugar Levels
Stress on the body can affect blood sugar levels. During periods of high stress, the body is more likely to produce more blood glucose. Surgery, whether it's a facelift or a life-saving procedure, causes physical stress to the body which impacts blood sugar.
When the body is under stress, it typically produces more hormones than usual. Those hormones, such as insulin and cortisol, aim to provide the cells of the body with an energy source, such as glucose and fat, respectively. In a person with diabetes, the stress response, also called "fight or flight," isn't a particularly challenging problem. When the source of the stress goes away, the hormones reabsorb the source of energy and blood sugar levels dip back to normal levels.
When a patient has diabetes and is exposed to a source of stress, such as a surgical procedure, the response doesn't switch off quite as it should. The extra sugar produced by the extra insulin doesn't get absorbed by the body's cells. Instead, it lingers in the blood, pushing blood glucose levels up.
Getting Blood Sugar Levels Under Control
While controlling blood sugar levels before surgery is important for any diabetic considering a plastic surgery procedure, it's also essential that patient and surgeon work to control blood sugar levels during the surgery, too. A process known as tight control can help reduce the likelihood of blood sugar levels spiking during the procedure.
Tight control is usually performed on patients with type 1 diabetes, and often involves the use of insulin to manage blood sugar levels. Often, blood sugar levels are kept at 70 to 130 before eating and at no more than 180 after a meal under tight control. The specific benefit of practicing tight control of diabetes for patients considering plastic surgery isn't quite clear, but it could be that getting the condition under as much control as possible before surgery cuts down on the body's stress response and keeps blood sugar levels from fluctuating too much.
If you have diabetes and are thinking about plastic surgery, speaking not only to a board-certified plastic surgeon, but also to your primary care doctor before the surgery is critical. The doctor who manages your diabetes will most likely want to work with the plastic surgeon to ensure the best possible outcome.