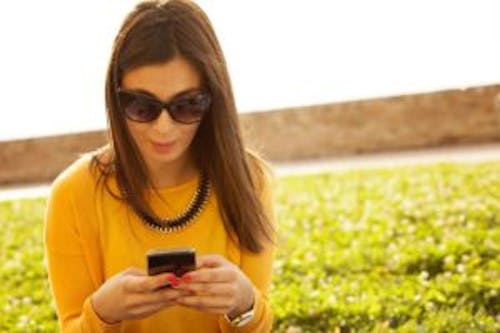 Do you love your smartphone? If you regularly look down at your phone to check email, read blogs, or find out what's going on in people's lives with social media, you might be doing a number on your neck. Already one of the first areas to show signs of aging, the skin in the neck area can also age if you are constantly looking down or moving your head up and down, glancing back and forth at your tech device's screen. Constant up and down movement of the neck increases the speed at which collagen and elastin breakdown, making signs of aging appear that much more quickly.
If you have started to notice some tell-tale signs of aging on your neck, such as looser skin and more wrinkles, you don't have to give up your smartphone habit. Instead, make some changes to the way you use the phone or other devices. You can also see a facial plastic surgeon to learn about your neck rejuvenation options.
Adjust the Angle
One way to avoid tech neck or to keep its signs from getting worse is to change the way you use your phone. Instead of holding your device low, so that you need to tip your head forward or bend your neck at a 45-degree angle, lift it up high so that the screen is eye level. Lifting your phone up will not only help you avoid a sagging neck and premature wrinkles, but it can also help you avoid any pain in the neck that comes from keeping it tipped forward for long periods of time.
You might also want to adjust the position of any other screens you stare at on a regular basis. Using a tablet holder can help, for example, as can raising the level of your laptop or computer monitor.
Battle Bands With Botox
Botox isn't only for use between the eyebrows or in the corners of the eyes. The injection can also help you fight the signs of aging on the neck. If you are beginning to develop vertical bands up and down your neck, a Botox injection can help soften those bands, making them less visible, at least temporarily. Usually, the results will last for around three months. That might give you plenty of time to adjust how you use your phone or other devices.
Consider Our Weekend Necklift
One of the major downsides of tech neck is that it usually appears in people who are under age 40. If you've started to develop a turkey's wattle or double chin and haven't yet turned the big 4-0, one way to deal with it is to consider the Laser-Assisted Weekend Necklift™, a procedure created by Dr. Ross Clevens, central Florida's only practicing, double board certified facial plastic surgeon.
As the name implies, the Weekend Necklift is a relatively short procedure with a relatively quick recovery time. The procedure is a three step process. First, any extra fat is removed from the neck area using laser liposculpture. Next, the skin and muscles of the neck are tightened, reducing the turkey wattle and any sagging. Finally, Dr. Clevens finishes the procedure by lasering the undersurface of the neck skin, improving the texture and reducing any crepiness.
Protect Your Neck
Changing how you use your tech devices is just step one when it comes to keeping tech neck away. Although it does show signs of aging, and often shows them earlier than other parts, the neck is often neglected when it comes to using skincare products or protecting it from the sun. When putting sunscreen on your face each morning, remember to apply it to the neck area, too. Use moisturizing products on the neck as well to help keep the skin hydrated. Firming creams made for the neck area tend to be more potent than creams made for the face, since the neck skin is often thinner and less elastic to begin with.
Do you want to learn more about what you can do to protect yourself from tech neck? Ivy League-trained Facial Plastic Surgeon Ross A. Clevens, MD, FACS can help. Voted "Best in Brevard", Dr. Clevens can examine your neck area and let you know if the signs of aging are related to your tech usage or if they are just general signs of aging. He can also recommend the treatment that's right for you, from a weekend necklift to Botox. To schedule a consultation with Dr. Clevens, call (321) 727-3223 today.