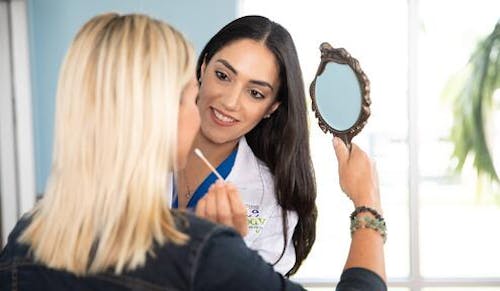 Injectable treatments have become all the rage among people seeking cosmetic treatments, helping both men and women achieve a more youthful look without the need for surgery. If you've decided to pursue a nonsurgical injectable treatment to smooth lines and wrinkles, a neuromodulator such as Botox Cosmetic, Dysport, or Xeomin may be the ideal choice.
However, making the best decision for yourself requires an understanding of the key similarities and differences among Dysport vs. Botox vs. Xeomin. Learn more:
Dysport vs. Botox vs. Xeomin: Key Similarities and Differences
Dysport, Botox Cosmetic, and Xeomin are all examples of neuromodulators that work by temporarily relaxing your facial muscles to fade or minimize dynamic wrinkles caused by repetitive movements like squinting, frowning, or furrowing your brows. Treatments are fast-acting, with results beginning to reveal themselves in just a couple of days, showing full effects within two weeks, and lasting for around 3-4 months.
All three injectables contain the same active ingredient, botulinum toxin type A, a naturally occurring purified protein derived from a bacteria called Clostridium botulinum. That said, don't let words like 'toxin' or 'bacteria' scare you away: Dysport, Botox Cosmetic, and Xeomin are all approved by the Food and Drug Administration (FDA) for cosmetic and medical use, with a myriad of documented evidence to support their safety and effectiveness.
What should you be doing NOW to ensure you age gracefully? Check out our guide, Cosmetic Procedures For Every Decade Of Your Life."
Despite their inherent similarities, there are still a few key differences between the three popular injectables. Let's compare Dysport vs. Botox vs. Xeomin.
Dysport
Dysport is a more diluted solution than Botox Cosmetic or Xeomin, which makes it spread faster and cover a larger surface area than the other injectables. Because of this, it may be a better fit for patients looking to address large areas at one time. Due to Dysport's more diluted state, it takes 2-3 times as many units (at a lower unit cost) to see results, which begin to show up in a shorter period of time—as little as 24-48 hours rather than 72 or longer. Pricing for Dysport starts at 100 units for $500.
Botox Cosmetic
Botox Cosmetic is the most popular and most studied injection of the three options—not to mention the most popular and sought-out treatment at our practice. It's optimal for treating wrinkles in multiple areas of the face and neck, especially smaller, more targeted areas of concern like crow's feet, forehead lines, or smile lines.
Unlike Dysport and Xeomin, Botox is also approved for alternative uses, such as treating migraines, temporomandibular joint (TMJ) disorders, hyperhidrosis, and more. Although rare, some patients may develop antibody resistance over time, which is a good opportunity to try Dysport or Xeomin instead. Botox Cosmetic costs $625 for 50 units at our practice in Brevard County, Florida.
Xeomin
Dysport and Botox are made with purified proteins, but Xeomin is different because it contains a "naked" form of the active ingredient to deliver it without any protein additives. This makes Xeomin the ideal injectable treatment for patients who showed antibody resistance and stopped responding to Botox and Dysport due to their purified forms. Like Botox Cosmetic, Xeomin costs $625 for 50 units.
How To Decide Which Injectable Treatment Is Right For You
Now with a better idea of the similarities and differences between injectable treatments, the next step is to meet with a board-certified facial plastic surgeon who can help you compare Dysport vs. Botox vs. Xeomin and choose the best option to meet your needs.
Facial plastic surgeons have an expert understanding of facial anatomy and can make a safe and informed recommendation based on your unique goals and areas you'd like to treat. Schedule your consultation to meet with one of our master injectors and discuss the best treatment plan to achieve your desired personalized results.