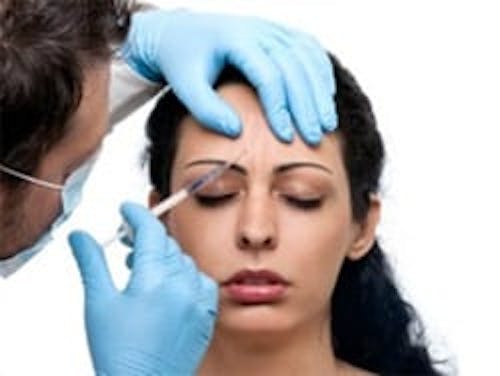 The sun is shining, you like your job and the holidays are on their way. While you might feel completely content and happy on the inside, your external facial expression might be saying something else entirely. While some people look upset or angry because their face is more expressionless, others develop an angry-looking face as they get older because of facial movements or the formation of lines and wrinkles.
If you're tired of being told to smile or of having people ask you "what's wrong?" when everything is fine, there are a few ways to cheer up your facial expression.
Neuromodulators
Not all wrinkles are created equal. While some lines, such as crow's feet that people develop at the corners of their eyes, can make it look as though they've gone through life with a big smile on their face or constantly laughing, other lines, such as the frown lines or "11s" that form between the brows, can make you look upset.
A lifetime of furrowing your brow contributes to the development of those lines. One minimally invasive, temporary way to treat them is to receive an injection of either Botox, Dysport or Xeomin. The three products are different brands of botulinum toxin, a neuromodulator that keeps the nerves from sending a signal to the treated muscles. Without that nerve signal, the treated muscles won't move and the frown lines will fade after about a week.
The results usually last a few months. To keep your angry, frowny face from returning, you can repeat the injections every three months or so.
Although Botox, Dysport, and Xeomin contain the same active ingredient and are designed to treat the same wrinkles, there are some subtle differences between the three. A facial plastic surgeon who offers all three options can help you decide which brand is right for you.
Dermal Fillers
Lines and wrinkles that are created by a loss of volume, not by repeated muscle movements over time, can also make you look upset, no matter how you feel inside. Those lines and wrinkles need to be treated with a different type of injection, namely a dermal filler, instead of botulinum toxin. Dermal fillers, such as Juvederm and Perlane tend to be made from hyaluronic acid, a substance that's naturally made by the body and that plays a bit part in keeping youthful skin looking plump and soft.
Like the results from Botox and the like, the results from a dermal filler aren't designed to be long-lasting. In many cases, results wear off after about six months, though the results from some injections can last up two years.
Along with filling in lines and wrinkles on the face, dermal fillers can help you look less angry by adding more volume to your face. For example, some fillers are used to add volume to the lips. As you age, the lips become thinner. In some cases, they also start to turn down more, so that you look as like you're frowning. Adding volume to them helps turn the corners of the lips up and plumps them up, too.
Brow Lift
You might be on the lookout for a more long-lasting solution to your perennially angry looking face. If you want something a little more long lasting than an injection, a brow lift might be the solution for you. The surgery is usually ideal for patients who have a droopy brow that makes it look as though they are furrowing their brow or scowling. It's also appropriate for patient who have frown lines between the brows or who have vertical forehead lines.
A brow lift can performed in a number of different ways. The surgical method that's right for you depends on the extent of droopiness you have in the brow area and how dramatic you want the results to be. Many patients see a significant improvement after a less invasive, endoscopic surgery. But, some might need a more invasive, traditional surgery to get the results they want. During the traditional surgery, the doctor makes a long incision along the hairline. The least invasive form of the surgery involves a few small incisions near the temples.
While brow lift surgery is more involved than injections, the pay off is that the results last years and years, instead of just months. If you have been receiving injections for some time and are looking for something more long lasting or if you want to longer lasting results right away, surgery might be the best option for you.
Whether you go for injections or surgery, it's important to find a board certified facial plastic surgeon who has experience with the procedure you're interested in. In central Florida, that surgeon is Dr. Ross Clevens, who was voted "Best of Brevard." To learn more about your options, call Dr. Cleven's practice to schedule a consultation today: (321) 727-3223.