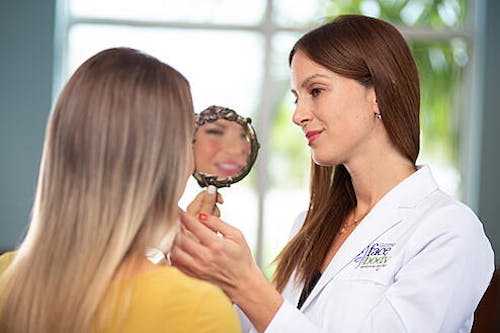 Many of the patients that we see for facial cosmetic surgery opt to have more than one procedure done at once—and there are many benefits to taking that approach. We've noticed that when patients move forward with only part of their recommended treatment plan, they're sometimes not fully satisfied. Dr. Clevens, our specialist in facial plastic surgery, often compares getting one procedure done at a time to painting only half a room in your house. The job would be left unfinished and you would be far from satisfied with the results, right?
The truth is, after patients improve one aesthetic area, they often find themselves focusing more on neighboring areas that were not addressed. That's why full facial rejuvenation is often the best approach; it allows you to address all the specific problem areas on your face at once and avoid undergoing multiple procedures to do so.
In this article, we talk about the benefits of having more than one facial cosmetic procedure done at the same time—as well as the best procedures that can be done together to achieve the results you're looking for.
Benefits of Having Multiple Procedures Performed at the Same Time
Below are some of the key benefits to having multiple procedures done at once during facial cosmetic surgery.
Cost Savings
By having multiple procedures performed together, you can save significantly on surgical center and anesthesia costs. Rather than needing to pay all of these fees again to have a second (or third) cosmetic procedure done, grouping procedures means you only require surgical center and anesthesia once.
Single Recovery Time
Grouping procedures not only generates cost savings but also means only going through one recovery period. Alternatively, patients who have one cosmetic procedure performed and then decide after the recovery period that they aren't yet satisfied and would like to undergo a second surgery have to recover all over again. Many of our patients opt to combine facial cosmetic procedures together simply to avoid the additional recovery time.
Less Downtime
Only one recovery period ultimately means less downtime away from your day-to-day life and responsibilities. That's less time to take off work, fewer activities to miss out on, and less time in the surgeon's office. This benefit is especially appealing for patients who live a very active lifestyle.
Before you choose your plastic surgeon, read this guide to understand your quote and exactly what you're paying for.
Facial Cosmetic Procedures That Can Be Done Together
There are many different facial procedures that can be done at the same time to save money, ease recovery, and achieve optimal, natural-looking results you'll love. Some of the facial procedures that can be combined include:
Blepharoplasty (Eyelid Surgery)
Facelift
Browlift
Rhinoplasty
Laser Skin Resurfacing (Face, Neck, and/or Chest)
Laser Assisted Weekend Necklift
Lip Enhancement
Facial Implants (such as Chin Augmentation)
Otoplasty
MOHS Skin Cancer Surgery
These are just some examples of procedures that patients can have done at the same time. If you're thinking about having facial cosmetic surgery, meet with a board-certified plastic surgeon who specializes in facial plastic surgery to discuss your problem areas and unique goals. Consider having full facial rejuvenation to ensure you address all your concerns at once. Doing so will not only save you time and money but also result in an optimal outcome that helps you look and feel like the best version of you.