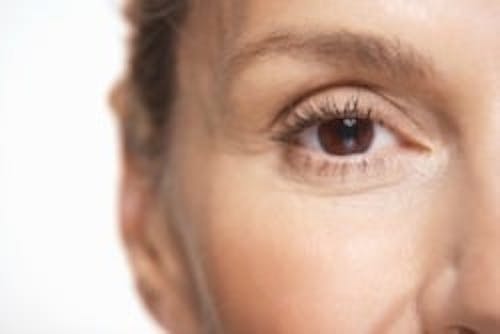 When you laugh, squint, smile or cry, the area around your eyes scrunches up. Over time, all that activity in the eye area leads to wrinkles such as a crow's feet. Your eyelids might start to get heavier and droop, which also makes you look older.
While the eyes are often one of the first parts of the face to show signs of aging, they don't have to be. A number of treatments can help minimize the appearance of lines and wrinkles by the eyes, improve your eyelids or help reduce dark circles.
Injections
The lines, or crow's feet, that develop on the outside corners of your eyes are caused by muscle movements. Crow's feet typically appear when you squint your eyes or smile wide. As you get older, the lines become more etched in and are visible even when you aren't squinting or smiling.
Botox and similar injections, such as Xeomin or Dysport, are designed to reduce the appearance of crow's feet and other dynamic lines on your face. Dysport, Xeomin, and Botox all contain a form of botulinum toxin, which blocks the nerve signal to the treated muscle, keeping the muscle from moving and creating the wrinkle. Typically, the treatment lasts for up to six months, after which you can receive another injection to maintain your results.
Although each of the three brands contains a similar ingredient, they all work slightly differently. Your surgeon will help you decide which one is best for you during a consultation.
Laser Skin Resurfacing
A loss of collagen and elastin, a loss of fat, and pigment changes can make dark circles more visible under the eyes. Changes in your skin's texture can also make under-eye wrinkles more apparent. Laser skin resurfacing is one way to restore a more youthful texture to the eye area.
During the treatment, a laser is directed at the area you want to be treated. Depending on the type of laser used, it can destroy the damaged or top layer of skin, stimulating new cell production and the production of collagen. The treatment is meant to "erase" fine lines and wrinkles and to improve the texture and look of the skin in the eye area.
There are several different types of lasers available. Some, known as ablative lasers, are stronger than others. These lasers actually damage the skin to provoke healing and improvement. Other types of lasers are non-ablative and considerably more gentle. They have a shorter recovery time but are also less dramatic in terms of results.
Eyelid Surgery
As you age, your eyelids might start to get heavy and droop, giving you a sleepy look, even when you're wide awake. Heavy eyelids can also make you look sad or angry. In some cases, sagging lids can impact your vision, making it difficult to see.
Eyelid surgery, or blepharoplasty, can reduce sagginess in either the upper or lower eyelids, or in some cases, in both. During the procedure, the surgeon might remove excess skin or fat from the area or trim the muscle to lift the lids and to reduce any droopiness or sagging. While the surgery can help your eyes look more youthful, it's not a long-lasting fix. Your eyes will continue to age. The surgery is also not designed to fix crow's feet or a drooping eyebrow.
Protecting the Eye Area
Since no treatment of the eye area will stop aging, it's important to take steps to protect your eyes from factors that can speed up the aging process or that contribute to it. For example, it's a good idea to stop smoking, as tobacco use slows down your body's ability to heal, and makes it more likely for wrinkles to appear.
It's also a good idea to protect the skin around your eyes from sun exposure. You can do so by avoiding the sun or by wearing sunscreen. Avoiding sun exposure is particularly important if you have laser skin resurfacing, as the treatment makes your skin more sensitive to sunlight.
You can also use an eye cream to keep the eye area moisturized and to help fight the signs of aging. Talk to your doctor about the best eye cream to use. He might recommend one that contains retinol or other ingredients, such as alpha-hydroxy acids.
Voted Best in Brevard, facial plastic surgeon Dr. Ross Clevens is able to answer any questions you have about aging in the eye area and ways to reduce the signs of aging. To schedule an appointment with the nationally recognized doctor at his Orlando-area practice, call (321) 727-3223 today.