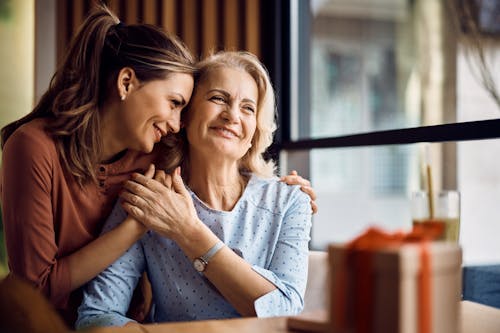 It's proposal season! Forty percent of marriage proposals happen from November to February. As the wedding planning begins soon after, many patients come to our practice seeking facial rejuvenation to prepare for their son or daughter's big day.
Weddings are a joyous time when friends and family come together to celebrate love and the joining of two lives. However, they can also be stressful for many people as being at a wedding party puts them in the spotlight. Just behind the bride and groom, the mothers are often a focal point of the occasion and want to look their best.
Since this is a common concern, we have made the definitive pre-wedding guide for the Mother of the Bride (or Groom) so you can feel most confident on this momentous occasion.
Three Months Before The Big Day
For patients seeking the most comprehensive facial rejuvenation, we recommend that any surgery be planned at least three months prior to the wedding. The face and neck heal remarkably fast when compared to other parts of the body due in part to the rich blood supply to these areas. Usually, by three months, any form of facial surgery should be virtually undetectable.
Surgeries such as brow lifts, eyelid surgery, and facelift are often combined to achieve the most optimal results. Following surgery, we recommend laser skin resurfacing of the face, neck, and chest to improve fine lines, smooth away wrinkles, and diminish any age spots. When performed by an experienced facial plastic surgeon, the outcomes of these procedures are very natural. You should expect to look like a refreshed and younger version of yourself. The goal is for you to look like the best version of yourself!
Two Months Before the Big Day
One month after the initial healing period is the time to really focus on refining your results. At this point, we have you meet with our licensed medical aesthetician who works with all of our post-operative patients. She is an expert at administering treatments to drain the lymphatic system and speed healing, as well as advising patients on how to effectively pair medical-grade skincare products to achieve healthy, glowing skin. A custom skincare routine is important to keep your skin looking its best as the wedding approaches. It is also during this time period that we may consider quick and easy "light" laser appointments to blend in any remaining visible incisions. These usually only take a few minutes in the office and have little to no downtime.
One Month Before the Big Day
With the big day only weeks away, now is the time for any final touches. You will continue the skin care regimen prescribed by our licensed medical aesthetician and any final laser appointments. This is also the perfect time to consider adding neurotoxins and/or dermal fillers. Neurotoxins such as Botox or Dysport work by inhibiting the muscles that cause wrinkles. When administered by an experienced provider, the results are natural and you will still be able to make natural facial expressions for the wedding photographer. Botox usually takes about one to two weeks to be fully effective. Dysport is effective within only a few days and is great for any last-minute wrinkle emergencies!
Dermal fillers such as Juvederm and Restylane are a great addition to the surgical procedures listed above as they can be used to replace volume in the face which is lost as part of the aging process. Fillers can also be used to highlight cheekbones, define jawlines and chins, and hydrate or plump lips. Many of our patients love filler treatments because are highly customizable, the results are immediate, and they can be sculpted or contoured to perfection.
Although temporary bruising and swelling are rare with neurotoxin and fillers, we do recommend they be administered at least two weeks before any big events (just in case). This also gives us time to make any last-minute adjustments so that everything is perfect for the big day.
There you have it – the ultimate pre-wedding guide to facial plastic surgery for the Mother of the Bride (or Groom). Following our general timeline leading up to the ceremony will ensure that you are looking your best for your son or daughter's wedding day. Although it is best to start facial rejuvenation well in advance of any big events, in as little as three months you can be well-healed, looking your best, and able to focus on enjoying the festivities!
Get started today! Browse our online gallery of Before and After photos of actual patients to see examples of our facial rejuvenation procedures. When you're ready, schedule your cosmetic consultation and full-face assessment with our specialists to discuss your goals and receive a custom treatment plan prepared just for you.