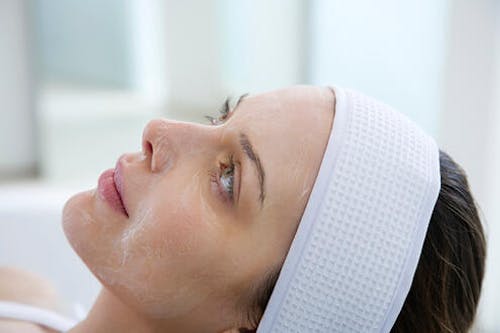 Chemical peels are a highly effective, nonsurgical way of achieving a glowing, youthful complexion—but what are the results like, can they be customized, and how long do the results of a chemical peel last?
Let's talk about chemical peels: the different types available, results you can expect, and how frequently you should return for treatment.
Different Types of Chemical Peels
One of the biggest benefits to choosing a chemical peel is the ability to customize your treatment to target specific skin imperfections and achieve your desired results. At our plastic surgery group in Brevard County, Florida, chemical peels are custom-blended to meet each patient's unique goals, and they vary based on type and strength of the acid used—all of which are naturally derived from plants and fruit extracts. The type of peel you choose depends on how dramatic of a change you'd like to see and the degree of lines, wrinkles, and sun damage you want to correct.
Our skincare experts typically recommend a series of three peels, after which results will last for about one year. We offer four different proprietary chemical peels, ranging from superficial to deep.
Superficial peels use mild alpha-hydroxy acids (AHAs) and beta-hydroxy acids (BHAs) to treat very fine lines, dry skin, mild acne, and skin pigmentation irregularities. Our Level I Illuminize Peel is ideal for brightening and tightening the skin for a more refreshed look. It's perfect to have done on a Friday if you want your skin to look more radiant over the weekend because it requires very little downtime.
Our Level II Revitalize Peel is double the strength of our Level I Illuminize Peel, but also has very little associated downtime. After about one week following treatment, skin appears tighter and more youthful, with softer fine lines and wrinkles.
Medium peels use trichloroacetic acid (TCA) and salicylic acid to treat deeper wrinkles, scarring, sun damage, and more advanced skin pigmentation irregularities. Our Level III Transformation Peel contains a custom blend of five naturally derived acids, in addition to hydroquinone, to even out the skin tone and reduce brown spots caused by sun damage or melasma. Most medium peels require approximately 4-6 days of downtime.
Deep peels typically use carbolic acid, the strongest peel solution, to achieve dramatic, longer-lasting facial rejuvenation results. Our Level IV Ultimate Regeneration Peel is the most penetrating peel we offer, and features the highest concentration of blended acids and hydroquinone to reduce fine lines and pores. As a result, the top layer of the skin is renewed and refreshed. Downtime is somewhat longer with deeper peels due to their concentration, and may require a longer recovery period of approximately 14-21 days.
What should you be doing NOW to ensure you age gracefully? Check out our gide, Cosmetic Procedures For Every Decade Of Your Life."
How Long Does a Chemical Peel Last?
Our medical-grade chemical peels are performed by licensed medical aestheticians (under the supervision of Facial Plastic Surgeon Ross A. Clevens, MD, FACS) and contain a high concentration of active ingredients, making them more targeted treatments that are often longer-lasting than alternatives.
Results can be maintained most effectively when the peel treatment is combined with a daily skincare regimen that includes medical-grade products. Your daily regimen should begin at least 30-60 days prior to your treatment to get the greatest benefit from your peel—especially for deeper peels that have a higher concentration of blended acids.
Several factors impact the type of chemical peel or frequency that our team recommends. In some cases, a patient may be a better candidate for laser skin resurfacing or InMode Morpheus8, a nonsurgical skin rejuvenation procedure that combines microneedling with radio frequency energy to stimulate skin tightening and collagen production.
During your chemical peel consultation, you can learn which treatment is the best fit for you based on your skin type, available downtime, budget, and aesthetic goals. If you do decide to move forward with one of our medical-grade chemical peels, our aesthetician can recommend products during your consultation to help "prep" your skin to achieve optimal, lasting results.
Ready to revitalize and refresh your appearance? Schedule your consultation to meet with our skincare specialists and make a plan for your custom-tailored chemical peel.