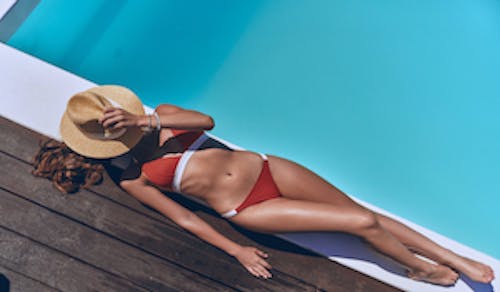 Living in the sunshine state, it can be challenging to stay away from those ultraviolet (UV) rays. Plus, who doesn't love to get some vitamin D? But despite all the good the sun does for our mood, it can be quite damaging to our skin.
Whether you love to soak up the sun or mostly stick to the shade, the effects of sun damage can be significant—which is exactly why it's necessary to take the proper precautions to protect your skin from UV rays. Here are some ways to stop or even reverse the effects of sun damage on skin.
The Effects Of Sun-Damage
The sun gives off UV rays that can damage the skin and cause it to age prematurely without the right protection. In fact, research shows that UV exposure is the reason behind 80 percent of skin aging. Fine lines, wrinkles, brown spots, and skin cancer can all be caused by sun damage. However, even if you are already dealing with sun-damaged skin, there are still steps you can take to stop or reverse the effects of the sun.
Stop Skipping the SPF
How can you protect your skin from the sun's harmful rays? The answer is simple: Stop skipping the SPF! Apply sunscreen after your moisturizer on a daily basis to protect your skin from further damage caused by exposure to the sun. Look for a UVB/UVA sunscreen that's between SPF 30 and SPF 50 for maximum protection with a zinc oxide of at least 15%. Zinc is the best free radical blocker of UVA (aging) and UVB (burning) rays. If you're outside for long periods of time, make it a point to reapply your sunscreen every two to three hours.
Wearing sunscreen is not only an important rule of thumb for individuals who spend a lot of time outside. Some of the fluorescent lighting in office buildings contains UV rays as well, so always opt to wear sunscreen, whether you're spending the day inside or out. When you are outside, try to avoid direct sun exposure—especially during the midday.
Explore Cosmetic Treatments
In addition to wearing daily sunscreen, there are also nonsurgical, cosmetic treatment options available that can stop or reverse the effects of sun damage on the skin. Let's review the different treatment options. All of these procedures stimulate collagen to help improve the tightness and brightness of the skin.
Chemical Peels
Chemical peels are a highly effective treatment option for eliminating fine lines, wrinkles, and brown spots caused by sun damage. They can improve the texture and tone of sun-damaged skin by resurfacing the top layer (epidermal) to reduce the appearance of lines, wrinkles, and sunspots.
Laser Skin Resurfacing
Laser skin resurfacing is a procedure that uses specialized lasers to revitalize and improve the appearance of the skin after sun damage. It can help to renew your skin's texture and erase lines and wrinkles with minimal downtime.
Photo Facial IPL
Photo Facial IPL is a series of intense pulsed light (IPL) treatments that improve the appearance of sun-damaged skin. To accomplish this, an intense light is applied in a series of gentle pulses to initiate the body's natural healing process. This results in a more even skin tone and a significant reduction of fine lines, age spots, and capillaries that cause redness.
Brightening Pads
Brightening pads are a great way to exfoliate and brighten the skin to improve its appearance after sun damage. They can be used as part of your regular routine to maintain a brighter, more youthful appearance. Many brightening pads—like those in our exclusive skin care collection—are customizable and can be modified with increased prescription strengths of hydroquinone for severely sun-damaged skin.
By taking the right steps and exploring treatment options, you can stop or reverse the effects of sun damage on your skin. The right routine and cosmetic treatments will keep your skin looking happy and healthy—minus the wrinkles, fine lines, and brown spots!