If you are unhappy with the appearance of your profile then you may consider facial cosmetic surgery in Central Florida to balance your overall facial appearance. Many patients do not realize that the chin plays an important role in your facial harmony.
People usually only look at themselves from the front, and it is only when they catch themselves in profile that they might realize they have a weak chin. A recessed chin exaggerates nasal imperfections, making even a normal sized nose seem larger, and is easily corrected with the placement of a chin implant. These procedures are often performed together and greatly enhance one another.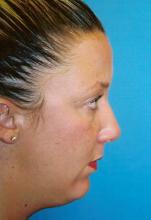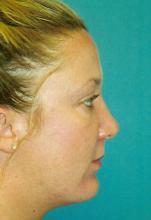 (Before & After Facial Implant Surger)
When the chin is weak or undersized, it disturbs facial balance and harmony. A short chin may make a nose appear larger and more conspicuous, an overbite appear more pronounced or a double chin appear worse. Dr. Clevens is able to improve facial balance and harmony through placement of a chin implant. If you are unhappy with your profile, then consider facial implant surgery in Melbourne, Florida and call our office at 321.727.3223 to schedule an appointment. We would love to meet with you and discuss the best treatment options available to you.

Ross A. Clevens, MD
Melbourne Florida Facial Plastic Surgeon