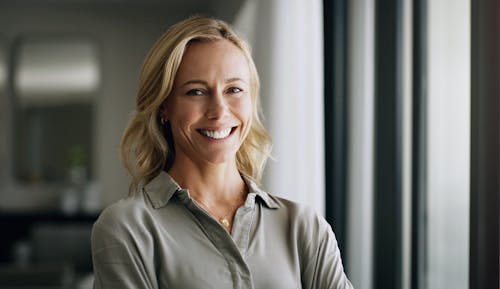 As you make your way through your 40s, the subtle signs of aging may start to become more apparent. Patients will often experience more laxity of the skin resulting in sagging of the upper eyelids and deepening of the nasolabial folds and marionette lines. In addition, there is loss of volume in the cheeks and less definition of the jawline. Patients may also begin to notice more prominent lines and wrinkles.
Luckily, there are options aplenty to address individual concerns. Here are some of the most effective treatments to help you look more rejuvenated in your 40s.
Botox is a fantastic way to help diminish the appearance of lines and wrinkles in the upper third of the face. It functions by softening your facial muscles which smoothens the appearance of forehead lines, frown lines, and crow's feet. It can also be used to lift your eyebrows, which in conjunction with Upneeq eye drops (that lift your upper eyelid) contributes to a more rested and refreshed look.
Fillers are a great way to replace volume in areas of the face where volume is lost as a result of the natural aging process. It can be used to elevate the cheeks, lessen the appearance of deep furrows (nasolabial folds and marionette lines), contour the jawline, and plump and shape the lips.
This has become one of my favorite procedures to perform with outstanding results. Threads help to lift the aging face while also stimulating collagen production to improve the quality of your skin. I personally love the combination of our Silhouette Instalift to raise the cheeks and contour the jawline with MyEllevate (a suture suspension system) for reshaping of the neck. The best part is, this is an incisionless procedure with instant results and little to no downtime. Furthermore, both are FDA cleared.
Lasers and radiofrequency energy devices are used to tighten the skin and improve the appearance of wrinkles and scars. They work by producing heat which stimulates collagen formation resulting in better texture and rejuvenation of the skin. Their effects are augmented when combined with the properties of exosomes and other natural healing gels. There are a whole host of different devices that can be used depending on the patient's goals and expectations.
All these treatments can be done individually or better yet in combination to produce excellent outcomes. As always, it's important that you consult with an experienced facial rejuvenation specialist who can assess your expectations and develop a treatment plan that it best for you!