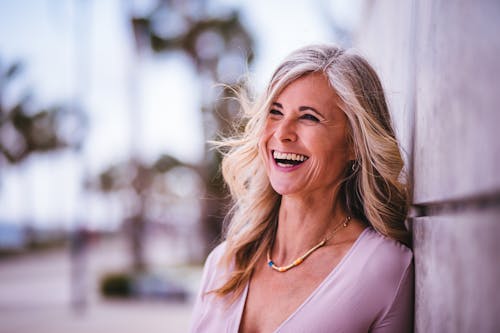 Although there are many surgical and non-surgical options for the rejuvenation of the face and neck, a facelift is usually considered to be the gold standard. A facelift addresses the lower two-thirds of the face, from the cheeks down to and including the jawline. Even though the name doesn't imply it, a facelift does in fact include lifting and tightening of the neck. When a facelift is performed properly, the underlying structures of the face and neck are repositioned to where they used to be before the influence of time and gravity. The cheek is lifted, the deep folds around the mouth are diminished, the jowls are smoothed, the jawline is defined, and the neck is tightened. This "deep plane" approach produces a natural and youthful appearance.
There are many myths surrounding facelift surgery. Patients often assume that the recovery will be long and painful or that their face will appear wind-blown or frozen after surgery. Some people might even think that they are not a candidate for a facelift because they are too young or too old. In this article, we will separate fact from fiction regarding facelift surgery and provide you with an overview of what you should expect.
Who is a candidate for facelift?
There is no strict age limit on who can undergo a facelift and who cannot. We have performed facelifts on people in their 40s, people in their 80s, and every age in between! The only absolute consideration for determining if you are a candidate for a facelift is if you are healthy enough to tolerate general anesthesia. You may be surprised to learn that even people with multiple medical conditions can undergo anesthesia safely with a low risk of complications. Part of the standard pre-surgery workup involves a visit with your primary care physician for medical clearance. This usually involves a review of your medical history and medications, basic lab work, an evaluation of your heart, and possibly other various routine tests. Once you have obtained medical clearance, your surgeon and anesthesiologist will also review your medical history to confirm. Medical clearance prior to surgery is a very common part of many primary care physicians' practices, so this process is usually straightforward and can be completed quickly.
What does a facelift actually "do"?
A common myth that we hear regarding facelifts is that the surgery involves the pulling back and tightening of the skin of the face. Another part of this myth is that it will be obvious that you had a facelift as you will now appear "wind-blown" or "frozen." The reality is that a properly performed facelift doesn't cause any of these things.
A deep plane facelift involves identifying the underlying muscle and fat pads of the face and then surgically repositioning these structures to where they used to be. This repositioning of the deep parts of the face produces a natural result and all of the muscles of the face continue to function normally but just in a more youthful position.
Facelift doesn't change the appearance of your face in the sense that you won't look yourself. You will look like a younger, more refreshed version of yourself. The goal is for you to look like you!
What is the recovery from a facelift like?
There are many misconceptions surrounding the recovery from a facelift. You may be surprised to hear that facelift recovery is probably easier than you think. Facelift is typically not a painful surgery, in fact, it is expected and normal to be numb following surgery. This numbness eventually subsides with time. The most common complaint following facelift surgery is the sensation of tightness in the neck (which is what we're trying to achieve!). Over time, the neck will continue to look tight but that feeling of tightness will go away.
Downtime from a facelift is typically 10-14 days. During this time period, you will be able to walk around the house and perform the most typical activities of daily living. However, it is important that you avoid strenuous activity, bending over, and heavy lifting. Most patients will start to feel like themselves again about a week after surgery. At the two-week mark, you can begin light aerobic activity, and around three weeks there are no more activity restrictions.
How long does it take to heal from a facelift?
Most people will be able to return to work and normal social activities two weeks after surgery. At this point, sutures have dissolved and incisions are easy to conceal. Some fullness may still be present but should not be noticeable to most people.
The next big milestone in healing is the three-month mark. We typically try to schedule surgery a few months in advance of any major events. We refer to this as the "mother of the bride" timeline. Around this time, your incisions are blending in, the swelling is greatly reduced, and you are ready to showcase your results.
Complete healing from any surgery truly takes a full year. Many things occur underneath the surface of the skin during this time - swelling fulling dissipates, collagen transitions from one form to another, and the final results from surgery can be seen. You should have regular visits with your surgeon during this time period to help guide your healing and achieve the best results possible.
I hope this guide will provide the reader with a clearer understanding of what is involved in facelift surgery. There are many different ways to perform a facelift but in our experience, the deep plane facelift provides the most natural, longest-lasting results. The best way to learn more and to see if you are a candidate for a facelift is to schedule a consultation with an experienced provider who performs this surgery regularly.