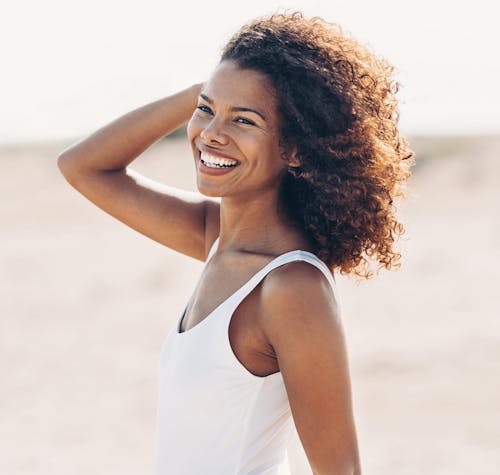 In the fast-paced world that we now live in, patients want to be able to look their best without the downtime associated with surgery. Fortunately, there are numerous options out there that require little to no recovery time, and the ability for patients to go about their day immediately after treatment. Here are some of my favorites.
1. Botox
Botox is a great way to refresh your look by diminishing the appearance of lines and wrinkles. It works by limiting the movement of your facial muscles which smoothens the appearance of forehead lines, frown lines, and crow's feet. To take it a step further, Botox can also be used to lift the eyebrows giving you that rested look. It can also be used to give more "show" to your lips by performing a "lip flip." Another popular treatment is the use of Botox for facial slimming. The great thing about this treatment is that it can be done relatively quickly, with patients often getting it done on their way to work or during their lunch break.
2. Fillers
I often get asked about how dermal fillers differ from Botox. As their namesake suggests, the purpose of fillers is to fill. Whereas Botox is an excellent option for addressing signs of aging in the upper third of the face, filler is used to add volume in areas where volume is lost as a result of your natural aging process. Popular uses of filler include the ability to lift the cheeks, address deeper furrows (nasolabial folds and marionette lines), plump and shape the lips, augment the chin, and contour the jawline. This goes without saying, an experienced injector will help you to achieve your desired result with minimal swelling or bruising.
3. Thread Lifts
Threads have come a long way since they were first introduced and are currently in high demand. The materials from which threads are now made have also improved by leaps and bounds since their inception. Not only do threads lift, but they also stimulate collagen production which in turn improves the quality and texture of your skin. This is a great option for patients who are looking for that "lift" without the need to go under the knife. They are especially impressive at elevating the cheeks, defining the jawline, and contouring the neck. Our Silhouette Instalift is a scar-free procedure where patients can walk out without minimal discomfort and absolutely no downtime. Patients often tell me during their one-week follow-up appointment how they've already received compliments on their refreshed look.
4. Non-ablative laser treatments and Radiofrequency energy devices
Lasers have always been notorious for their outstanding results, but can be a deterrent owing to their extensive downtime and post-laser care regimen. The good news is, the days of having to take time off for a laser treatment are now long gone. So, what exactly is a non-ablative laser? To put it simply, it is a type of laser that generates heat which stimulates collagen formation without causing damage to the surface of the skin. This in turn tightens the skin and gives you that rejuvenated look. There are various types of non-ablative lasers such as Fractional lasers or IPL (Intense Pulsed Light) that serve different purposes depending on the patient's concerns. In general, these lasers serve to improve the appearance of wrinkles, scars, and areas of redness or pigmentation. Treatments are short but may require several sessions spaced a few weeks apart to yield the desired results. With advances in technology, radiofrequency energy devices have also developed and become increasingly popular. These devices cause the stimulation of collagen by warming tissues at a deep level. Morpheus8 specifically combines radiofrequency-elicited thermal energy with microneedling to enhance the outcome of treatment. In addition to the rejuvenation of skin, they can also be used to reduce fat in certain parts of the body. Results are further enhanced when combined with the healing properties of natural healing gels and exosomes. Once again, this treatment has minimal to no downtime and no need for post-laser care.
5. CoolSculpting ELITE and CoolTone
A common question I get asked is the difference between CoolSculpting ELITE and CoolTone. First off, they are both nonsurgical body contouring treatments. CoolSculpting ELITE is a system that eliminates stubborn, unwanted fat in common trouble spots including the tummy, love handles, double chin, and more. The device employs cryolipolysis to administer controlled cooling to the areas of concern. This is in turn targets and freezes fat cells which are then naturally eliminated by your body. Patients will generally start to see the results of this treatment in about 30 days, and up to 12 weeks to observe significant changes. CoolTone on the other hand uses magnetic muscle stimulation to tone and strengthen your muscles. This is a great way to enhance the results of your workout with no downtime or recovery period.
The best way to find out more about these treatments and learn whether they are a good option to address your cosmetic goals is to meet with a specialist in consultation. At our practice, we even offer virtual consultations for your convenience. After your consultation, you'll have all the information you need about the best treatment plan so you can decide how to move forward and get right back to your active lifestyle!