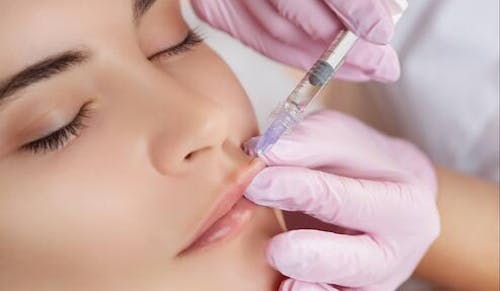 It's a common misconception that Botox does it all. Questions like "is Botox a filler?" come up often as people researching injectables try to make sense of the results that can and can't be achieved with a treatment. We're here to debunk myths and share the key similarities and differences between different types of injectables.
Here's all you need to know about the differences between Botox and dermal fillers:
Botox 101: The Most Popular Nonsurgical Cosmetic Treatment
Botox is the most sought-after nonsurgical cosmetic treatment, designed to achieve a more youthful look without the need for surgery or downtime. Botox, along with Xeomin, Dysport, and Jeuveau, are all neuromodulators made from a safe, highly refined, purified protein.
Neuromodulators work by temporarily relaxing the facial muscles to help address dynamic wrinkles, which appear (or become more apparent) due to the repeated movement caused by our changing facial expressions. Treatments help to reduce or eliminate:
Horizontal forehead lines and furrows
Vertical brow creases, known as "the elevens"
Crow's feet (wrinkles around the eyes)
Prominent vertical bands in the neck
Bunny lines (lines around the nose)
The results typically last for about three months, and people begin to notice the outcomes gradually wearing off over time. Most Botox patients schedule recurring treatments for every 3-4 months in order to maintain their results.
What should you be doing NOW to ensure you age gracefully? Check out our guide, Cosmetic Procedures For Every Decade Of Your Life."
What's the Difference Between Botox and Dermal Fillers?
Both Botox and dermal fillers are nonsurgical cosmetic injectables that help achieve a more youthful look with a quick treatment that can be performed over your lunch break.
Botox and dermal fillers are both painless with no downtime, especially at our plastic surgery practice in Brevard County, Florida, where we offer numbing cream and Clevens Comfort+, an optional, patient-administered medicine that helps relieve anxiety and discomfort during injectable treatments.
However, that's where the similarities end; the procedures themselves work differently. Whereas Botox achieves results by temporarily relaxing dynamic facial muscles, dermal fillers rebuild the natural collagen layer that supports your skin to reverse natural signs of aging. This rebuilding is necessary because as we age over time, we naturally lose facial volume. Fillers plump up skin in treated areas to resolve lines and wrinkles and restore lost volume for a more youthful look.
Botox and fillers also treat different areas of the face and different types of wrinkles. Botox is typically used to treat dynamic wrinkles on the upper third of the face, where muscle movement causes lines and wrinkles. Dermal fillers are instead used in the lower two-thirds to restore volume loss and address static wrinkles, or those that are present without any facial expression. Different fillers, such as Juvéderm Voluma, Restylane, Radiesse, and Sculptra, can target a number of common issues, such as:
Laugh and smile lines
Facial folds and creases
Weakened jawline or chin
Volume loss on the cheeks and midface
Some scarring (e.g., softening acne scars)
Thin lips (by adding fullness and redefining lip border)
Fine lines around the lips, mouth, nose, and forehead
With that said, fine lines in particular are sometimes better addressed by laser skin resurfacing than by injectables—particularly smoker's lines and fine lines that appear even when the face is at rest. Unlike Botox, which takes effect in a few days, filler results are immediate, and they are longer-lasting. Most fillers last for 6-12 months—or up to five years with Bellafill!
Deciding Which Injectable Treatment Is the Best Fit For You
The best way to determine whether Botox or fillers are the best fit for you is to meet with a board-certified facial plastic surgeon who is highly skilled and trained in injectables and the art of facial rejuvenation. There are numerous benefits to seeing a facial plastic surgeon for nonsurgical cosmetic procedures, particularly due to their artistry and unique understanding of facial anatomy, symmetry, and how to achieve natural results.
During a consultation, one of our master injectors can discuss the best treatment options for you. Your facial plastic surgeon may even recommend a treatment that uses a combination of different injectables, such as the C-Lift (short for "Clevens Lift"), which uses a combination of Botox and dermal fillers to address different areas of concern. It's really the best of both worlds for full-face rejuvenation!
Interested in learning more about the different injectables we offer at Clevens Face and Body Specialists? Schedule your consultation with Ross A. Clevens, MD, FACS or Renata Khelemsky, MD to talk to one of our master injectors about your desired results and get a recommendation on the best option for your unique needs.