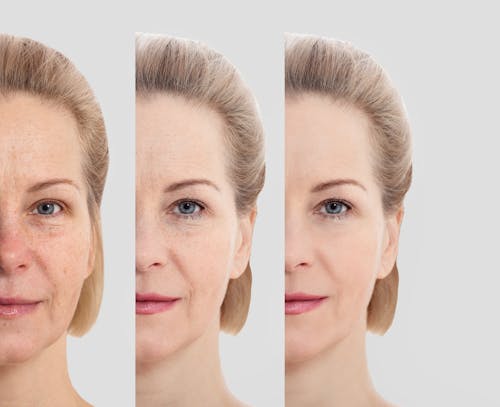 Ozmepic or Wegovy are brand names for the medication Semaglutide – a medication created originally for diabetic patients. Semaglutide works by decreasing insulin production and increasing glucagon production to help regulate blood sugar. A common side effect of Semaglutide is decreased gastric emptying. This means when you eat, the food in your stomach will take longer to pass through from the stomach into your intestines and through the rest of your digestive tract. This process is called delayed gastric emptying. Delayed gastric emptying causes you to feel full for longer periods of time, and therefore, eat less. Because of this, Semaglutide has become one of the world's fastest-growing weight loss fads.
For many patients, losing weight can be a challenge. Even after incorporating diet and exercise, and overall lifestyle changes, some patients feel they simply need more help. Weight loss or gain affects all of the fat in your body. This means when you lose weight, you are losing weight not only along your abdomen, thighs, or arms, you are losing weight along your face as well. Loss of facial fat can drastically accelerate aging. Patients on Semaglutide can lose up to 12% of their starting weight by week 28, for example if you weigh 250 pounds you can lose up to 30 pounds within 28 weeks (7 months). Normally, in order to lose 30 pounds, most patients will need about one year with lifestyle changes alone.
You may be wondering how fat loss accelerates aging. We have fat all throughout our face, including superficial fat and deep fat pads that help keep the face lifted, plump, and youthful. As we age, the fat pads of the face naturally migrate or move down causing hollowing along the cheeks, deep under-eye hollows, and the formation of the "jowls." There are three main factors that contribute to facial aging: facial fat loss, bone resorption, and changes in skin. These three components occur subtly and simultaneously over time. This explains why you may look in the mirror one day and say, "Wow! I feel tired" or "I feel older" all of a sudden. We often don't notice changes in our face as they occur. Rather, we notice them when the damage has been done. But do not fear! There are now ways we can easily replace facial volume loss and rejuvenate the face both surgically and non-surgically.
Nonsurgical ways to restore facial volume and youth include the use of fillers, Botox, lasers, microneedling, and threads. Fillers fill and are an easy nonsurgical way to fill areas in that have become hollow and add contour back into the cheeks, or plump up the lips. Botox works by relaxing muscles in the face that cause the skin to crease which will lead to permanent lines over time. Lasers stimulate collagen production and remove damaged skin, improving skin tone and texture. Microneedling produces collagen and can help decrease large pores and improve acne scarring. Threads lift the skin up and as they break down over time leave behind a band of collagen which helps slow down sagging skin.
Surgical ways to restore a youthful appearance include facelift surgery, upper and lower eyelid surgery, fat transfer, cheek augmentation, eyebrow lift, and lip lift. Facelift surgery removes excess skin along the neck and lower face. Upper eyelid surgery removes excess skin and fat along the upper eyelid region. Lower eyelid surgery removes and re-distributes under-eye fat to address bags. Fat transfer allows surgeons to use fat from one area and restore fat in another area. Cheek augmentation creates contour and lift by adding a permanent implant to replace bone loss. Eyebrow lift surgery lifts a heavy brow back into its original position or can even be customized to place the brow in a new desired position. Lip lift surgery can remove excess skin between the nose and upper lip, restoring a youthful appearance and removing stubborn wrinkles around the mouth.
Whether you have taken Semaglutide, had bariatric surgery, or simply feel your face has aged, explore your options by booking a consultation with a facial rejuvenation specialist. A Facial Plastic Surgeon or experienced Master Injector can guide you and develop a customized plan that will restore your youthful appearance and your self-confidence too.