Kiley Johnson, a 27 year old native of Melbourne , wanted a rhinoplasty since she was 12 years old. For every birthday and holiday, Kiley used to ask her Mom if she could have that hump removed from her nose. Kiley was very self conscious about her profile.
"I never liked my nose. It overwhelmed my face, and I couldn't stand how it seemed so lumpy and crooked in photographs!" Kiley has fun looking back at photos at age 8, and says, "My nose was so small back then; it just doesn't seem that my nose should have had that big hump in later years!" Kiley told us that her mom, local artist Sandy Johnson, painted her as a child, "but she always painted portraits of me from the front!"
Finally, Kiley, a computer programmer in Gainesville , decided to do it for herself. Kiley came to Dr. Clevens because he was highly recommended as "the best around." Kiley and her mother researched Dr. Clevens' credentials and spoke to many of his existing patients.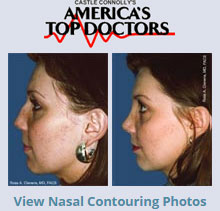 "I certainly couldn't find anyone with better credentials than Dr. Clevens, and since he specializes in the face, I knew it was a great fit." Kiley is very pleased with her rhinoplasty. "I feel so much better about my appearance. I'm not self conscious anymore. I'm so glad I had the surgery, and I would absolutely do it again!"
Originally from Australia , Sandy lives in Melbourne , FL. Her work has earned her various awards including Honorable Mention in a "Pastel Journal" magazine competition. Sandy has won many local competitions and is very active in the Strawbridge Art League and Brevard Museum of Art. Sandy encourages painters to look for strong lights within an object, to see colors you didn't know existed, and then to exaggerate the colors in the painting. With her artist's eye, she sees the artist in Dr. Clevens too. "He doesn't create a 'cookie cutter' nose. Everybody is unique and Dr. Clevens has the gift of creating an individual, personalized look for all of his patients."