New trends reveal that laser technology is steering the future of the cosmetic surgery industry. The American Academy of Cosmetic Surgery (AACS), a leader in the cosmetic surgery industry, conducted its annual Procedural Survey and the most notable finding is the shift towards non-invasive laser treatments.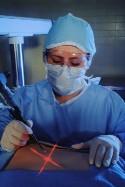 Over the past three years, cosmetic surgeons have seen a significant increase in both males (456%) and females (215%) electing to have laser resurfacing. Laser resurfacing is performed with a "super-pulsed" carbon dioxide (CO2) laser to minimize wrinkles and lines on the face. In addition, laser hair removal has jumped to the overall number two most performed non-invasive cosmetic procedure.
"Cosmetic surgery technology is advancing at the speed of light" states the current AACS President . "As we learn more about the cosmetic uses for lasers, the more patients benefit from effective results and quicker recovery time. It is an exciting time for both cosmetic surgery patients and physicians."