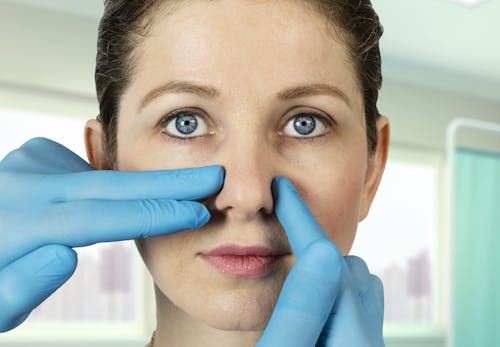 You spent months saving up and studying before and after photos, planning for the plastic surgery that would give you the nose of your dreams. After a lifetime of wishing your nose looked different, you finally pulled the trigger and had the procedure done. The only problem now that you've recovered is that the results are not what you expected.
Rhinoplasty, commonly referred to as a nose job, is the surgical solution for reshaping the nose to improve its appearance and function. The procedure is very common—it is one of the top five cosmetic procedures, with more than 213,000 performed in 2018 alone.
But despite rhinoplasty's popularity, it is also one of the more complex cosmetic procedures and doesn't always turn out as planned, especially when performed by an inexperienced surgeon or by a surgeon who does not specialize in facial plastic surgery. The last thing anyone wants is to have revision surgery after a cosmetic procedure, but it beats spending a lifetime with a nose that isn't quite right.
If you've already undergone rhinoplasty but are less than satisfied with the results, you may want to consider revision rhinoplasty. Revision rhinoplasty, also called secondary rhinoplasty, is a surgical procedure that addresses complications or unsatisfactory results following an initial nose job.
In this blog post, we'll share the most common reasons for seeking revision rhinoplasty, plus details on when it makes sense to consider the procedure and how it differs from the initial rhinoplasty.
When Rhinoplasty Goes Wrong: Common Reasons For Revision
Although rhinoplasty can be completely transformative, it also carries the risk of being unhappy with the outcome. It is not at all uncommon for people to seek revision rhinoplasty in order to have problems corrected from a prior rhinoplasty procedure.
In fact, studies show that up to 15 percent of rhinoplasty patients end up pursuing revision surgery to correct mistakes and improve results. Some of the most common issues that lead to secondary rhinoplasty include:
Asymmetric nose
Nasal airway obstruction
Collapsed cartilage or bones
Incomplete reshaping
Nasal valve collapse
Pinched nasal tip
Excessive scarring
Unnatural appearance
In addition to these concerns, some patients seek secondary rhinoplasty because they simply feel the result is too obvious and appears overdone. In these cases, revision rhinoplasty offers patients the opportunity to correct problem areas and achieve more natural-looking results.
How Revision Rhinoplasty Differs From the Initial Procedure
Revision rhinoplasty may be longer and more complicated than the initial procedure. Whereas the initial procedure is 1-2 hours long, revision rhinoplasty may take double the amount of time to complete successfully due to scar tissue present and previous alterations to the normal anatomy. Because of this, making the choice to move forward with revision surgery is a serious decision that should not be taken lightly. Although, there are common mistakes in primary rhinoplasty by a novice surgeon that can be easily corrected by an experienced rhinoplasty facial plastic surgeon.
Scar tissue from the first rhinoplasty can be problematic during revision surgery and can limit the potential outcome. On top of that, scar healing after revision rhinoplasty can be unpredictable—all of which are considerations to keep in mind when making your decision, which is why choosing an experienced facial plastic surgeon is so important.
The procedure itself is different for everyone because it is entirely dependent on the specific aesthetic and structural concerns you want to address. Problems can result anywhere, including the upper one third, middle, and tip of the nose. Your facial plastic surgeon will work with you to create a custom surgical plan that meets your exact specifications.
Revision procedures often require the use of cartilage grafts in order to replace damaged cartilage from the initial surgery and provide structural support for the nasal tip and/or bridge. In many revision cases, the main objective is to rebuild the tip and bridge using cartilage from the septum, ears, or rib. The procedure can also involve sculpting, repositioning, or removing nasal bones, depending on the patient's individual, unique situation.
In some cases, the nasal septum may be deviated, which requires additional correction to improve both appearance and function. Correcting a deviated septum involves using cartilage "spreader grafts" to open up the narrowed area and improve breathing.
Get the most our of your consultation. Come prepared with this comprehensive checklist to help you ask all the right questions.
When It Makes Sense To Consider Revision Rhinoplasty
It may take one to two years for all of the swelling and minor asymmetries to subside after the first rhinoplasty procedure. It can also take over a year for scar tissue to soften, and hardened scars can prevent your surgeon from making corrections. That's why if you're thinking about undergoing secondary rhinoplasty, it is important to be patient and allow your nose to fully heal before pursuing a revision. Medicines such as Kenalog and 5-FluoroUracil may be injected into the nose during the healing process to manage scarring and swelling.
Attempting revision rhinoplasty before your nose has had a chance to heal properly can lead to a very poor outcome—which is obviously not what you're looking to get out of the procedure. That said, there are short-term, non-surgical solutions you can think about having to temporarily address your concerns. For example, injectable fillers can help to reshape the nose for a short window of time while you're waiting to pursue a revision.
Before and after photos and patient testimonials on RealSelf are great resources to help you decide whether or not to move forward with revision surgery. Here's a real-life example of one of our patients who sought out revision rhinoplasty:
"I had a rhinoplasty done 5 years ago and the tip of my nose started to deviate and curve to the right. The surgeon who had done my rhinoplasty the first time explained that he could go back in and fix it but I passed and haven't seen him since. I had lost some hope and decided to take time and live with it for a bit instead of jumping right back into surgery. 6 months back I came to Dr. Clevens after searching all over for the perfect surgeon. He did a revision rhinoplasty and straightened my septum to help my breathing. Currently I am 6 months post-surgery. I had a lot of swelling and discomfort for the first few weeks, but it lightened up quickly. Now being able to judge more clearly what my final results will be, I am so very thrilled with how my nose looks and how much better my breathing is. My nose is straight and looks natural now. I finally feel confident in my nose." - Clevens Face and Body Specialists patient
Choosing a Facial Plastic Surgeon For Revision Rhinoplasty
You may be wondering whether you should return to the plastic surgeon who performed your first rhinoplasty procedure. Some people do opt to return to their original plastic surgeon; others seek out a surgeon who specializes in revision rhinoplasty to ensure optimal results. Scheduling your consultation with a skilled facial plastic surgeon is the best way to determine if it makes sense for you, if the timing is right to move forward, and ultimately if they are the right person for the job.
If you make the decision to move forward with the procedure, choosing a facial plastic surgeon who specializes in secondary rhinoplasty is essential for ensuring an outcome with which you'll be pleased. A specialist in facial plastic surgery—with extensive experience performing revision rhinoplasty—can evaluate your nose and customize the procedure to increase the likelihood that you'll be pleased with the surgical outcome.
Whichever option you choose, it is important to articulate your concerns and the changes you would like to make. An open, honest conversation about what you would like to fix will ultimately help you manage your expectations and meet your goals for the revision.
When all is said and done, the decision to undergo revision rhinoplasty is personal and entirely up to you. By waiting until the time is right, clearly articulating your goals, and choosing a specialist in revision rhinoplasty, you can ensure that this time around you achieve ideal results that you will love for years to come.
To feel confident and fully prepared for your consultation, download this Consultation Preparation Checklist, which includes insider tips and over 30 essential questions to ask the surgeon(s) you meet.

About the author: Ross A. Clevens, FACS, our founder and double-board certified facial plastic surgeon at Clevens Face and Body Specialists, is 100 percent focused on procedures involving the nose, eyelids, face, and neck. With more than 20 years of experience and 20,000 procedures performed in his specialty area, Dr. Clevens is widely recognized by both former patients and colleagues for his expertise in facial plastic surgery.