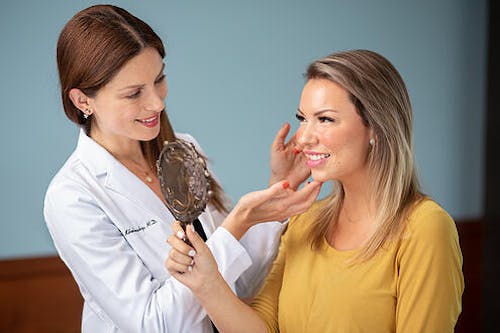 You've been considering a cosmetic procedure that would no doubt be a life-changing and transformative experience. And although you're excited to move forward, there are a few areas of concern holding you back—one of which is the potential for scarring.
Scars are naturally a concern for many patients considering plastic surgery. However, you may be surprised to discover the multitude of ways that scarring can be minimized or prevented after a cosmetic procedure. Fortunately, in the hands of an experienced specialist, scars can be reduced until they are barely perceptible, or even invisible.
Here's an overview of the role incisions play in scarring, the advantages of seeing a specialist, and the different steps you can take to minimize scars and achieve natural-looking results that you love.
Understanding the Role Incisions Play in Scarring
Scars are a natural part of the healing process following plastic surgery, but with the right approach and surgical techniques, they can be concealed. Scar minimization begins with the incisions made during the procedure. Skilled plastic surgery specialists know where to place incisions so they are inconspicuous.
For example, our skin has natural lines and wrinkles known as tension lines that serve as the perfect location for hiding scars. By hiding them in inconspicuous places such as the hair or the natural folds of the skin, experienced surgeons can camouflage incisions to ensure ideal healing and results.
Not all of this is out of your hands, so take some ownership of your healing process! After your procedure, proper incision aftercare is essential to initiate the healing process and prevent both scarring and infection. Follow the steps and precautions recommended by your surgeon to help your incision heal during your recovery.
Minimizing Scars by Seeking out Expert Hands
Because incision placement plays such a big part in preventing scars, your choice of plastic surgeon is very important. Experienced plastic surgery specialists learn and take great pride in meticulous surgical techniques, including hiding incisions.
Our patients at Clevens Face and Body Specialists want the best for themselves, and we often hear that they chose us because our team is well-versed in plastic surgery techniques that allow for very careful and detailed closure of incisions. Following this practice ensures optimal healing and greatly reduces the appearance of scars.
Our specialists in breast and body procedures, are renowned for placing incisions very carefully, hiding them in the natural creases of the skin or in places where they will be covered by clothing. Clevens Face and Body Specialists is also a pioneer in SPAIR short-scar breast surgery technique, which is proven to offer less scarring and more natural, youthful breasts following a reduction or lift.
Request a consultation to speak with our expert team
Treatment Options for Minimizing Surgical Scars
Despite our best efforts, sometimes incisions simply don't heal as well as we would like. Scarring after surgery varies greatly from person to person. Some patients' skin is less capable of forming small, inconspicuous scars than others.
If you are not fully satisfied with the natural healing process, there are a number of interventions you can take to optimize healing, such as the following:
Sun Protection
Protecting your skin from the sun should always be a priority, but it is especially critical when you're healing from plastic surgery. New scars are more fragile than the surrounding skin and will react differently to sun exposure. Unprotected scars can become hyperpigmented and remain darker and more noticeable.
To prevent this from occurring, cover new scars with sunscreen for the first year after your plastic surgery. The sunscreen should be a minimum of SPF 35, and if your scars will be exposed to sunlight for long periods of time, you should reapply every few hours.
Scar Massage
Many plastic surgeons recommend that patients massage their scars following surgery. Scar massage is a technique for desensitizing and reducing scars by rubbing them in a circular motion with firm, consistent pressure. Lotion can be used to prevent friction and allow fingers to slide easily during scar massage.
To ensure your skin is strong enough to withstand the massaging motion, wait to begin massaging scars until your incision is completely finished healing and any sutures are removed. Your surgeon can recommend the appropriate amount of time to wait before beginning scar massage following your procedure.
Silicone Gel
Silicone-based products such as gels, creams, and sheets have proven to effectively minimize scarring from plastic surgery. These products often contain ingredients such as vitamins A and E that work in conjunction with silicone to reduce the appearance of scars. Silicone sheets are directly applied over the incision and left on, whereas silicone gel is applied topically and left to dry in place.
Silicone gels and sheeting are available over the counter, though medical-grade products are more likely to be effective at scar reduction. We just added our own Advanced Medical Silicone Healing Gel to the exclusive Clevens Signature Skincare Collection, which is extremely popular among our patients who are looking to treat and minimize scars.
Laser Treatments
Scars are often treated using a variety of nonsurgical laser techniques, which can help improve the look of your skin by removing scars or making them less prominent. For example, fractional CO2 laser skin resurfacing does a great job of improving scars, whether they're a result of cosmetic or reconstructive surgery, skin cancer removal, accident trauma or burns, or acne scarring.
Nonsurgical laser treatments can be ablative or non-ablative, depending on the size and depth of the scar in question. Ablative treatments completely destroy the outer layer of the scar, allowing new, healthy skin to grow in its place. These treatments are also noninvasive, with very little risk, easy recovery, and minimal downtime.
Scar Revision
Scar revision typically entails removing the old scar and re-closing the incision with the expectation that the new scar will heal better than the old one. Mechanical sanding and dermabrasion techniques can also help to prevent and treat scarring after plastic surgery by smoothing the surface of the scar and superficial layers of skin.
With that said, these scar revision procedures require additional healing time and pose more risks than nonsurgical treatments. That's why these options are generally a better fit for treating deep scars that don't respond to over-the-counter and nonsurgical procedures. Keep in mind that some patients don't heal as well as they hope to, despite the very best plastic surgical efforts.
Although each of these options has proven effective at reducing the appearance of scars, your first line of defense should always be to have your procedure performed by an experienced surgeon who specializes in small incisions. Doing so will ensure minimal to no scarring and natural-looking results that don't require correction.
If you're considering plastic surgery and looking to learn more about your options, a board-certified specialist can answer your questions to help you make the best decision for yourself and your future goals.
Schedule your consultation with a surgeon who specializes in the procedures that interest you to take the first step toward looking and feeling your best!