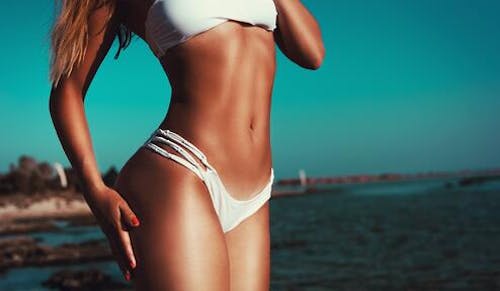 With the summer months upon us (and the Florida sun above us), many men and women are in search of ways to achieve a smooth, sculpted body that looks great in a swimsuit, shorts, and fitted clothing. If that's you, we have good news: Both surgical and nonsurgical procedures are available to help you achieve your ideal beach body, just in time for a hot bod summer.
Let's take a look at your surgical and nonsurgical body sculpting options and get you one step closer to making your dream body a reality.
Surgical Body Sculpting Procedures
Liposuction
Liposuction is a surgical procedure designed to remove stubborn fat that is unresponsive to diet and exercise, reshaping and contouring areas of your body to help you meet your #BODYGOALS and achieve a slimmer, more proportionate physique.
At Clevens Face and Body Specialists in Brevard County, Florida, we offer an exclusive, completely customizable liposuction procedure called Liponique. During the Liponique procedure, our body contouring specialists combine various liposuction and body sculpting technologies to achieve optimal results for each person.
Tummy Tuck
A tummy tuck, or abdominoplasty, is a surgical procedure designed to remove loose, stretched out skin from the abdomen, reducing excess fat and tightening abdominal muscles in the process. The four different types of tummy tucks each achieve a slightly different result, targeting various areas depending on your unique needs.
For example, the fleur-de-lis technique is ideal for patients who have a significant amount of horizontal excess skin extending around the abdomen to the back, flanks, and booty, such as after massive weight loss. However, the other three approaches do not address horizontal skin laxity, but do help you achieve a leaner physique with minimal incisions. Our board-certified plastic surgeons can determine the best tummy tuck technique for your specific needs and goals.
Nonsurgical Body Sculpting Procedures
CoolSculpting ELITE Fat Reduction
CoolSculpting ELITE is a nonsurgical procedure that targets and freezes away up to 25 percent of stubborn fat cells without anesthesia, recovery, or downtime. CoolSculpting ELITE is FDA-cleared to treat several areas with stubborn fat accumulation, such as the abdomen, flanks, thighs, upper arms, back, male breasts, and submental fat (also known as "double chin").
CoolTone Muscle Tightening
CoolTone is a nonsurgical muscle-toning treatment that uses magnetic muscle stimulation to strengthen and firm up muscles for a more sculpted look. During a CoolTone treatment, our body contouring specialists use a special device to induce involuntary contractions and stimulate the muscles in your abs, buttocks, or thighs. The result is a contoured, toned body with that last bit of definition that even the strictest diet and workout routine can't easily achieve.
Qwo Injectable Cellulite Treatment
Qwo is a nonsurgical treatment that can minimize unwanted cellulite on your booty, thighs, and other areas where cellulite is common. Treatment involves a series of tiny injections used to break down fibrous bands, redistribute fat, stimulate collagen, and smooth cellulite away for smoother skin that's free of dimpling, lumps, and bumps.
Request a consultation to speak with our expert team.
Combined Body Sculpting Treatments
Mommy Makeover
A Mommy Makeover is the perfect example of surgical body sculpting that includes various procedures. You can customize your Mommy Makeover to include the optimal combination of body sculpting procedures based on your desired goals for your results, such as breast augmentation, breast lift, tummy tuck, and/or liposuction.
Beach Booty Lift
Want the round backside of your dreams? A nonsurgical Beach Booty Lift combines the three treatments we outlined above: CoolSculpting ELITE, CoolTone, and Qwo. Our alternative to a surgical Brazilian Butt Lift helps reduce fat on the banana roll, minimize unwanted cellulite on your tushy, and tone your gluteal muscles to accentuate the shape and contour of your booty without surgery.
CoolSculpting ELITE (After Surgery)
CoolSculpting ELITE isn't only a standalone procedure—it's also extremely effective for eliminating fatty tissue on your thighs and arms to enhance surgical body contouring results achieved with a tummy tuck and/or liposuction.
Laser Hair Removal
Laser hair removal is commonly combined with surgical and nonsurgical body contouring procedures to remove hair in many areas. For example, many of our patients have laser hair removal on their arms, legs, face, neck, and/or back to get smooth, silky skin without frustrating, frequent shaving.
If you want to get ready to rock shorts and swimsuits all summer long, schedule your consultation with one of our body sculpting specialists. One of our board-certified plastic surgeons can make a treatment recommendation based on your areas of concern and unique goals for your results.
And after your treatments or procedures are complete? We'll see ya poolside!