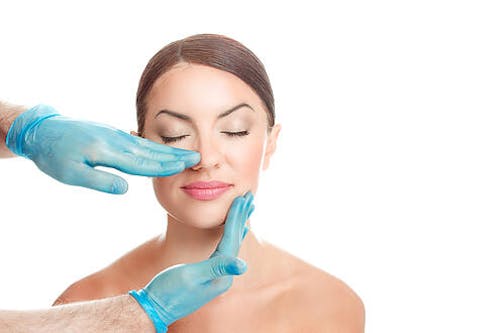 Perhaps you've always been self-conscious about the shape of your nose, but you've been unsure about pursuing cosmetic surgery. Or you might have functional issues that make it hard for you to breathe normally through your nose—a condition which is less than ideal. Whatever the reason, thousands of people have rhinoplasty, or a "nose job," each year to reshape their nose and resolve any cosmetic or functional issues.
What's more, advancing technologies are creating more options than ever before for improving your nose. Just because you want to enhance your nose doesn't necessarily mean you need to undergo surgery. There are now non-surgical options available to help improve the appearance of your nose. This blog will cover the pros and cons of both a traditional rhinoplasty and the new instant liquid rhinoplasty to help you decide which type of nose job is the best fit for you.
Surgical vs. Liquid Rhinoplasty: How They're Different
If you're trying to decide between surgical and liquid rhinoplasty, it helps to know the pros and cons of each option. We'll break it down for you.
Surgical Rhinoplasty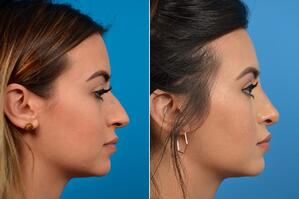 Rhinoplasty or septorhinoplasty is a surgical procedure that involves manipulating the skin, bone, and cartilage of the nose to reshape, refine, and resize it. People seek surgical rhinoplasty for many reasons, from correcting an overly large or small nose to fixing crooked or uneven nostrils. Patients also have surgical septorhinoplasty to fix deviated septums or other functional issues, such as breathing problems.
Modern rhinoplasty is performed on an outpatient basis, so there is no need to stay overnight in a hospital. Once anesthesia is comfortably administered, the facial plastic surgeon makes an incision, reshapes nasal cartilage, contours the nose, and sometimes uses cartilage grafts to change the size and definition of the nose. Most of our patients return to work in 7-10 days. During recovery, we recommend ice, elevation, and plenty of rest.
Surgical rhinoplasty is the preferred option for many because it's the only long-lasting fix. The procedure is completely customizable and allows you to reshape your nose until it's exactly what you want. On the other hand, the recovery time is much longer than with liquid rhinoplasty, which has no downtime whatsoever. And despite the fact that modern surgical rhinoplasty typically has very few complications, it's still surgery and comes with potential risks, and the results are permanent.
Before you choose your plastic surgeon, read this guide to understand your quote and exactly what you're paying for.
Liquid Rhinoplasty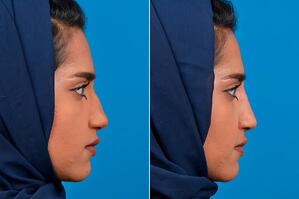 At Clevens Face and Body Specialists, we offer the Clevens Instant Liquid Rhinoplasty for patients who would like to improve the appearance of their nose without surgery. Nonsurgical rhinoplasty is a cosmetic treatment that involves using injectable fillers to reshape the nose without the need for any incisions. It helps to camouflage small bumps, improve the symmetry of the nose, refine the nasal tip, and fill any indentations.
The upside to liquid rhinoplasty is that it's a quick, nonsurgical nose job with no downtime. Patients can resume their daily activities right away and typically have no bruising or fullness afterwards. It allows patients to temporarily improve the nose and see instant results without the cost or recovery time of surgical rhinoplasty.
With that said, the results are temporary and not everyone is a qualified candidate. The procedure does not actually reduce the size of the nose—it fills in depressions to subtly reshape it, therefore, the skill and eye of a rhinoplasty surgeon are essential to achieving a desirable outcome. Results typically last for up to two years, so patients who are looking for a permanent change may want to explore surgical rhinoplasty as an option. However, liquid rhinoplasty is a cost-effective way to see how you feel about the results before having surgery.
Which Nose Job Is the Best Fit for You?
Not everyone is a candidate for surgical or liquid rhinoplasty. But what makes someone a strong candidate for either procedure? Good candidates for surgical rhinoplasty are typically healthy adults of all ages with no serious medical conditions who wish to improve the appearance of their nose, or the functionality, such as to resolve breathing issues.
Candidates for liquid rhinoplasty are those who are unhappy with their nose, but are not ready or willing to undergo a surgical procedure and simply want to improve their appearance. However, a limited number of people qualify for liquid nose jobs. Patients who have a deviated septum or a very wide nose may be better candidates for surgical rhinoplasty, which is better able to correct those specific concerns.
Surgical and liquid rhinoplasty are both effective cosmetic procedures that lead to great results; however, certain people are better candidates for one procedure than the other. Your unique situation and aesthetic goals will ultimately be the deciding factors for which route you choose to go.
If you're thinking about rhinoplasty, seek a board-certified facial plastic surgeon who has experience with the artistry of surgical rhinoplasty along with expertise in dermal fillers and injectables. They can make a recommendation as to which option is a better fit for you.