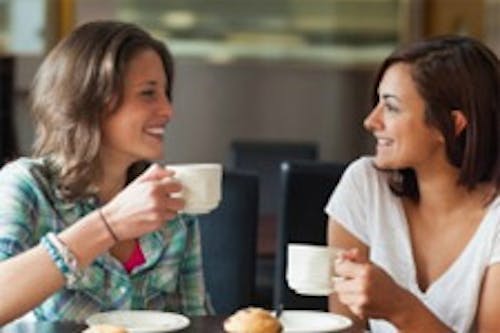 You've just had plastic surgery and you feel happy with the results. While you may have told your close family and a few friends, you might be wondering what to tell other people in your life. Should you share your surgery story with acquaintances or near strangers or let them come to their own conclusions. The answer is really up to you, and depends how comfortable you feel discussing your surgery with people, and the type of procedure you've had.
Deciding Who to Tell
It can be pretty difficult to hide the immediate results of a facial plastic surgery procedure, such as a facelift or rhinoplasty. The splint over your nose or bruising under your eyes might give you away. For that reason, it makes some sense to let the people who are close to you know about your upcoming surgery. You'll need to let at least one close relative or friend know about your surgery, as you'll need a person to take you home afterwards and stay with you for the first few days.
Gauge people's reaction to your decision by casually bringing up the topic of surgery one day, well in advance of the procedure. While attitudes towards plastic surgery have shifted over the years, some people still react in horror or with disapproval. You can quickly rule out sharing your story with the friends or loved ones who look upset when you bring up plastic surgery, even in an abstract way.
If you're having a non-invasive procedure performed, such as a Botox injection, you can probably get away without telling anyone, if you choose. You'll be able to get yourself home from the practice and will be able to head back to work and regular life almost right away.
You don't have to tell people at work if you don't want to. If you've having a surgical procedure that will require you to take a week or two off from your job, simply uses your vacation time if you have it. If people ask you where you're headed, it's perfectly fine to say that you're enjoying a staycation.
Request a consultation to speak with our expert team
Coping With Reactions
Reactions to the news of your surgery can range from people being excited to people being disappointed. In the initial stages after the surgery, some people might make comments about the way you look, due to the bruising and swelling. It's up to you to have a thick skin and to learn to react gracefully to other's reactions.
Not telling the people you think will react in a negative way is one way to reduce inappropriate or negative responses from others. But, even people who seemed to accept your decision might say something inappropriate or upsetting. If that's the case, it's best to take it with a grain of salt. If someone comments on the swelling or bruising, just say it's normal and will fade. If someone tells you that they think plastic surgery is bad idea, thank them for the opinion and move on.
Dealing With Nosy People
While most people know to mind their manners and not ask you if you've had surgery, others tend to forget their manners at the door. If someone asks you point blank if you've had surgery, what do you do? You can handle it in a few ways. Simply smile and thank them for the compliment, as they've pretty much just suggested that you look good. You can tell them that yes you've had a procedure and then move on. Or you can just smile coyly and say you'll never tell.
Although nosy people can be annoying and it can be upsetting to have to respond to too-personal questions, it's helpful to try to stay calm in such situations.
Change Something Else
One way to help avoid prying questions from people is to change something else about your appearance when you first return to work after your surgery or see your social circle again for the first time. For example, wear a new shade of lipstick or slightly change your hairstyle. People might ask what you've done differently, to which you can respond that you got a new lipstick color or that you cut your hair.
The right plastic surgeon can produce natural looking results, so that no one will know about your surgery unless you tell them.