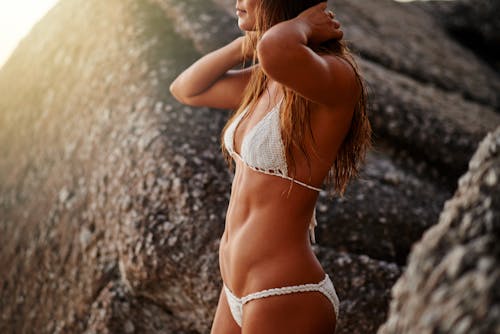 A tummy tuck, or abdominoplasty, is a body contouring procedure in which the excess skin from the lower part of the abdomen is removed, and the abdominal muscles are tightened. Many times ancillary procedures are added to the procedure including liposuction of the flanks. Many patients wonder about the recovery after this procedure including when they can return to work, go back to the gym, and get into that new swimsuit.
The tummy tuck incision is usually low and can be concealed when wearing standard underwear or even a bikini. The incision is usually carried from one hip bone to the other. This incision heals well and fades over time. There will also be an incision around your belly button as well. Once cleared by your surgeon, incision care is of utmost importance to help obtain the best results. The use of silicone gels or sheets has been shown to help soften and hydrate your incision leaving a nicely healed incision line. This practice is usually started about three weeks after your procedure.
After your tummy tuck, you will either have an abdominal binder or a garment that you will be wearing pretty much all day and night. This will help provide compression and also keep your core tight to prevent you from straining. You will want to make sure also that you have a way to rest in a sitting-up position, as lying flat will put tension on your incision and muscle repair.
You will likely have drains after your procedure. This is to help fluid come out and to prevent the formation of seromas, which are collections of clear fluid. Sometimes if the skin removal is minimal, there are different suture techniques that can be used so that you do not need a drain. These cases are rare and usually are ideal for thinner patients with a smaller lower belly pooch in the abdomen.
Pain management after abdominoplasty is a concern for many patients. A special long-acting local anesthetic called Exparel has really changed the game in terms of pain control. This drug is a long-lasting local anesthetic that provides pain relief for up to three days. This medication is injected along the muscle repair and along your incision while you are asleep during your procedure. This medication is advantageous in that it also prevents or minimizes the use of narcotics over time. While good at controlling pain, narcotics can make you nauseated and constipated. The fewer narcotics you use, the better you will feel in the long run. We recommend anyone undergoing tummy tuck utilize Exparel, as it will really speed up your recovery.
In terms of going back to work, many patients return to desk work fairly quickly after having a tummy tuck. Many patients are comfortable working from home. In terms of exercise, we encourage patients to walk around the hours after their surgery to prevent blood clots. Patients return to brisk walking within two weeks. For heavy weightlifting regimes, we advise that you wait six to eight weeks to allow the muscle repair to fully heal.
Overall, the recovery after a tummy tuck is not as daunting as it seems. Many patients return to normal activities quickly, feel like themselves, and are happy with the aesthetic outcome after the procedure. In fact, most patients say their only regret is they didn't have their procedure sooner!
To find out if you're a candidate for a tummy tuck, or to learn more about the procedure, book your consultation with our body contouring specialist today!