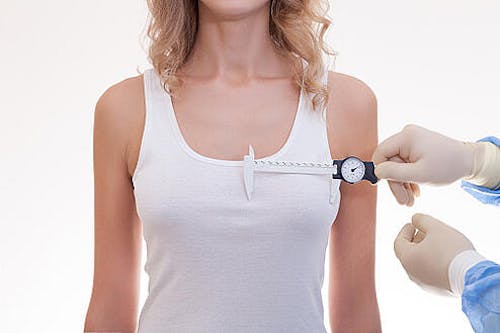 Breast implants have improved dramatically in quality. With procedures today offering better results than ever before, an increasing number of women are opting to have breast implant exchange surgery. If you're one of them, it is to your benefit to come to your consultation prepared to ensure you can accurately answer your plastic surgeon's questions—and allow time to ask a few of your own important questions as well. This content will cover what breast implant exchange is, who is a good candidate, and how they can prepare for the procedure to achieve ideal aesthetic results.
What is Breast Implant Exchange Surgery?
Many women consider breast implant exchange to replace implants from prior augmentation with a different size or a more modern implant. This is different from breast implant revision surgery, which is performed when someone is not satisfied with their result soon after surgery and wants to revise the first procedure for a better outcome.
Breast implant exchange is a three-step process. First, the surgeon removes breast implants from the prior augmentation. Sometimes, they perform corrective work to revise the pocket where the implant sits in the breast wall or clean up ruptured implant material and then replace it with another breast implant. For example, a patient might choose to have a breast implant exchange to remove and replace a ruptured saline implant. In some instances, a breast lift may be suggested.
Who is a Good Candidate for Breast Implant Exchange?
There are a few different scenarios that bring patients in for breast implant exchange. One is when a patient is looking for a different size—they might have initially enjoyed the outcome of their first surgery for a while, but are at a different point in life and looking for a change.
Another is when they're having an issue with breast implants from a prior surgery. Common problems are capsular contraction, or hardening of tissue around a breast implant that happens gradually over time and causes pain. Saline implants can also rupture or leak, which often brings women in to exchange them for modern silicone gel implants. Finally, a patient may seek out a breast implant replacement once her breasts have begun to sag as a result of aging, weight changes, or pregnancy.
Get the most our of your consultation. Come prepared with this comprehensive checklist to help you ask all the right questions.
How to Prepare for Your Breast Implant Exchange
To make the best use of the time you have, go into your plastic surgery consultation prepared. Here are some of the best ways to prepare.
Know What You Want
During the consultation, be prepared to discuss the reasons why you want a breast implant replacement, as well as the size and type of implant you want. This will help your surgeon better understand your surgical goals and expectations for the end result. In many cases, breast implant redo surgery is combined with a breast lift for optimal results. Along with a range of cup sizes, there are two types of breast implants to choose from: saline and silicone. Our specialist in cosmetic breast and body procedures, prefers silicone gel implants because as previously mentioned, saline implants are known to rupture and leak over time, and she also feels silicone gel implants feel more like natural breast tissue.
Start a Plastic Surgery Journal
Patients can benefit from creating a plastic surgery journal with notes and images to share with the surgeon regarding their breast implant exchange. At Clevens Face and Body Specialists, we encourage our patients to start a cosmetic diary where they can track thoughts and feelings about the procedure.
A cosmetic surgery journal is also a great place for patients to include photos that reveal characteristics they're hoping to emulate and a list of important questions to ask during the consultation. When doing so, it's important to find photos of someone with a similar body size and shape to identify what is possible in terms of a realistic outcome. These details can help you clarify what you're trying to accomplish with breast implant replacement surgery.
Create a List of Questions
As you're researching and preparing for the consultation, you can also develop a list of questions that you have for the plastic surgeon regarding your secondary breast augmentation. This will ensure you cover all your bases and leave with all the information you were looking for regarding your breast implant exchange.
Examples of questions to ask during your appointment are:
Are you a board-certified plastic surgeon -- certified by the American Board of Plastic Surgery?
Do you have specialty training in breast implant exchange?
What does breast implant exchange cost?
Am I a good candidate for breast implant exchange surgery?
Where will the breast implant exchange be performed?
How is a breast implant exchange different from a primary breast augmentation?
Does the age of the current breast implants matter?
Where will the breast implant be placed?
How can I help encourage the best outcome?
Will my incision site be noticeable?
What is the recovery period like?
What results can I expect to see?
How long will the new breast implants last?
Are there any risks or complications?
Are there before and after photos I can see?
Collect Your Medical Details
Your plastic surgeon will ask you to detail your medical history, particularly regarding your first breast augmentation procedure. Be prepared to discuss any medical conditions and drug allergies you have, as well as any issues or concerns you have with your current breast implants. Also, bring a full list of all medications, supplements, and vitamins you're currently taking and all the information you have about your current breast implants.
Breast implant exchange is a common procedure that's growing in popularity—but it's still surgery. As such, it's important that you prepare accordingly and select the best plastic surgeon to meet your needs. If you're curious about replacing your breast implants—or about any other cosmetic procedures—we would love to discuss your unique situation and answer any questions you have.