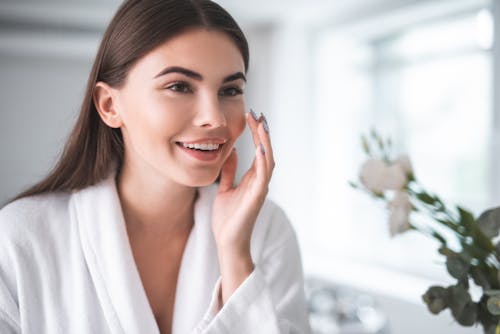 Today, cosmetic patients aren't waiting until they see signs of aging in the mirror to step into an aesthetics practice for corrective treatment. Instead, now more than ever, Gen Y, is embracing "prejuvenation" to prevent lines, wrinkles, and saggy skin before they happen as another form of wellness and self-care.
Here's a look at the most popular procedures for men and women ages 25-40:
Morpheus8 was designed by InMode aesthetics in 2020. Since then, it has rapidly become one of the top five nonsurgical procedures nationwide. Morpheus8 combines needling technology with radiofrequency. The microneedling component allows licensed providers to adjust the depth of the needles as needed to target specific tissues. The radiofrequency component delivers heat to the desired tissue to induce skin tightening and fat reduction as well as promote your body's ability to produce collagen. Morpheus8 comes with two hand pieces to target specific areas and achieve each patient's unique goals. One hand piece targets tissues of the face, neck and chest, while the other is designed for deeper tissues of the body. Morpheus8 can be used to reduce the appearance of cellulite, to tighten the skin, to reduce acne scarring, to improve contour deformities or irregularities in the skin, and to reduce fat. Before, during, and after any Morpheus8 treatment, we recommend following a medical-grade skin care regimen to prep your skin for optimal results. In general, we lose about 1% of our existing collagen each year, and the earlier we reverse or slow down collagen loss, the better we will age. Aging in reverse is possible with the right tools and the right medical provider.
Botox has been around since the 1980's, and its active protein is onabotulinumtoxinA. This protein is a naturally occurring purified protein. This injectable treatment works by gently relaxing the muscle where it is placed to soften movements, and as a result, lines and wrinkles. Botox has a wide safety margin and has been used for decades. Botox is FDA-approved to treat lines and wrinkles along the forehead, the glabella (eleven lines between the eyebrows), and the crow's feet (lines along corner of eye). Botox on average last three months. This means for some patients it may last more than or less than three months, but the majority of patients will see results for three months. Botox can treat existing lines and wrinkles over time with continuous use by allowing the skin to repair itself along the creases. Think of folding a piece of paper over and over along the same area. The crease created will be pretty deep and usually requires a heavy book or object placed over top of the paper for some time to flatten the crease. Botox is the heavy book that flattens the existing creases of our face over time.
More recently, Botox has become more popular among millennials for prevention of static lines and wrinkles. Static lines are lines which are present at rest, while dynamic lines are lines caused by active muscle movement. The theory is that if you don't allow a crease to form, you'll preserve your skin for longer. As a medical provider practicing aesthetic medicine I can assure you preventing aging is much cheaper and more effective than reversing or treating signs of aging. At times, patients present for Botox treatment when the lines and wrinkles have become deep static lines. Many times Botox alone isn't enough at this point. Deeper lines generally will require multiple modalities and treatment sessions, such as a combination of filler, lasers, and Botox.
Filler is a broad term used to describe a gel-like substance that is injected into the skin to restore volume and address lines and wrinkles. There are many types of fillers available today. Among millennials, hyaluronic acid fillers have contributed exponentially to the growth of the aesthetic industry. Hyaluronic acid fillers are made of hyaluronic acid, which is naturally produced and naturally broken down by your own body. Social media has influenced the way millennials view themselves, and as a result, it has influenced the use of hyaluronic acid fillers. We no longer only use hyaluronic acid fillers for volume restoration or anti-aging; rather, we now use fillers to augment lips, accentuate jawlines, contour cheeks, increase chin projection, and straighten noses. Fillers have become the new way to keep up with the current beauty standard. Fillers do help keep the skin hydrated and promote collagen production, so no matter how early you start, you will reap the benefits long-term. With millennials looking to have fillers placed earlier in life, it is critical to have a licensed and experienced medical provider injecting the filler and guiding you. If filler is placed incorrectly from the start, the complications could last forever. One common complication is filler migration. When augmenting areas such as the lips in younger patients, it is important to consider their existing lip volume and respect anatomical landmarks.
There are many reasons you should start aesthetic treatments early on in life, but only with an experienced and qualified aesthetics professional who can achieve the result you want with your safety in mind. Look for a licensed medical provider in a reputable long standing medical practice, and schedule your consultation to learn more about the treatments that are right for you.