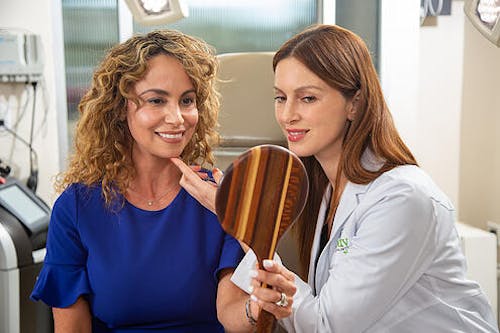 Are you starting to notice new lines and wrinkles when you look in the mirror? If so, you're far from alone. Aging is a natural part of life, and sometimes as we age we start to see small changes that may alter the way we look and feel.
Advanced procedures such as facelifts are long-lasting and highly effective for addressing common concerns, but some patients may not be ready or may simply not be interested in pursuing a surgery with an extended recovery. Luckily, advancements in laser technology have introduced new facial rejuvenation procedures that help people achieve a more vibrant, youthful appearance without a significant recovery period.
This blog post will discuss two procedures that require very little downtime, highlighting what they entail, results you can expect, and why the recovery process is so swift.
Laser-Assisted Weekend Neck Lift
The Laser-Assisted Weekend Neck Lift is an outpatient plastic surgery procedure that improves the contour of the neck and chin, getting rid of common pain points such as turkey neck and double chin. Our facial plastic surgery specialist, Dr. Ross Clevens, pioneered the Laser-Assisted Weekend Neck Lift to remove unwanted fatty areas of the neck and chin, tighten the neck and chin muscles, and shrink wrap the skin.
Unlike traditional facelifts, the Laser-Assisted Weekend Neck Lift allows patients to return to their day-to-day activities after just a long weekend. Because the Weekend Neck Lift only requires one tiny incision behind each ear and one under the chin (each incision is less than one third of an inch in length), patients experience minimal discomfort and have no visible scarring. As a result, the Weekend Neck Lift is an outpatient procedure with a fast, easy recovery period of just a few days.
After excess tissues are removed, they don't return; however, it's important to remember that the procedure cannot stop the natural aging process. Heredity, lifestyle, and sun exposure all contribute to the longevity of Weekend Neck Lift results. That said, in the hands of an experienced facial plastic surgery specialist, results can last as long as a traditional facelift.
C-Lift
The C-Lift is a non-surgical, liquid facelift that was created by Dr. Clevens. This personalized treatment lifts the cheeks, smooths lines and wrinkles, redefines the chin and jawline, and contours the upper neck to restore youthful features and give each patient their desired results.
Using a combination of relaxers and injectable fillers, the C-Lift achieves instant results with no incisions, recovery, or downtime whatsoever. Some people can experience minor tenderness for a few days following the C-Lift procedure, but it's fine to return to work and other daily activities right after the procedure is finished. The C-Lift is often combined with other non-surgical procedures, such as laser skin resurfacing, to enhance the results.
Choosing Outpatient Procedures That Meet Your Needs
There are cosmetic procedures of all kinds, with varying results and recovery periods to meet the needs of different patients. If you're looking for an outpatient plastic surgery procedure to address some of the common signs of aging and rejuvenate your appearance, the Weekend Neck Lift or the C-Lift might be a perfect fit to meet your needs.
Consult with an experienced specialist to learn more about the different outpatient plastic surgery procedures that generate amazing results with little to no downtime.