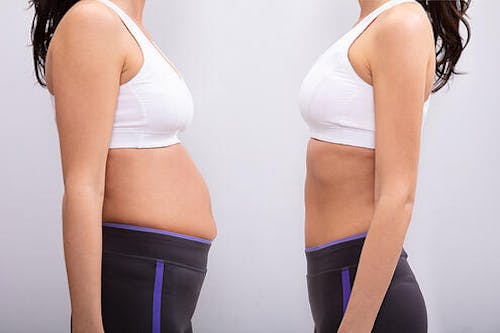 If it seems like nothing is working to improve the extra cushion in your midsection despite your best efforts, you might find yourself researching popular cosmetic surgical procedures such as tummy tucks or liposuction to address your concerns. Both of these options are highly effective, but they target different areas and ultimately provide different results—which is why it's important to know your options and learn which procedure is best for meeting your unique goals before making a decision.
Do you know the difference between a tummy tuck and liposuction? We'll give you the skinny on these two procedures, including what they treat, common misconceptions about each, the benefits of a combined approach, and details to help you better determine which procedure will provide the results you want.
Tummy Tuck vs. Liposuction: What's the Difference?
A tummy tuck, also known as abdominoplasty, is a surgical procedure designed to smooth and flatten the abdomen area. Tummy tucks help to remove excess skin and fat in the lower abdomen, tighten the stomach muscles, and create a more toned appearing abdomen. A tummy tuck is not a weight loss surgery. Both full and "mini" (partial) tummy tucks are available, depending on the patient's needs.
The ideal candidate for a tummy tuck is a man or a woman looking to improve the curvature of their waist, remove loose and excess skin on the abdomen, get rid of their "pooch," and/or have their abdominal muscles tightened. Pregnancy and weight changes can cause abdominal muscles to separate and skin to appear loose around the stomach. Women who are finished having children are excellent candidates for abdominoplasty because the procedure allows them to have separated abdominal muscles tightened and repositioned to achieve ideal results.
Liposuction is a surgical procedure to reshape and contour areas of the body and achieve a slimmer physique. Unlike a tummy tuck, which is solely focused on enhancing the abdominal area, liposuction can target the abdomen, hips, waist, back, thighs, knees, buttocks, arms, and more. The ideal candidate for liposuction is a healthy patient who has areas of stubborn fat that are resistant to diet and exercise.
Contrary to a tummy tuck, which addresses multiple concerns, liposuction only addresses excess fatty tissue—not excess skin or muscle laxity in the abdomen caused by weight changes, aging, or pregnancy. Despite the differences between tummy tucks and liposuction, one important thing to keep in mind is that neither procedure is a substitute for a healthy diet and exercise.
Before you choose your plastic surgeon, read this guide to understand your quote and exactly what you're paying for.
The Benefits of a Combination Approach
We've found that there are many benefits to taking a combination approach and having multiple procedures done together. It is very common for patients to have liposuction performed the same day as their tummy tuck to ensure all problem areas are addressed. Combining procedures not only ensures you'll be completely satisfied with the results but also helps save on surgical costs and cuts down on recovery time.
One of the most popular combos is the "Mommy Makeover," which can include tummy tucks, liposuction, breast lifts, and breast augmentation procedures that are performed together. Mommy Makeovers are customizable and can include a range of different cosmetic procedure combinations to meet each woman's unique goals for enhancing her body's appearance after having children.
Tummy tucks and liposuction are different procedures with different outcomes—and the one that's the right fit for you is completely dependent on your individual needs and goals. A board-certified plastic surgeon who specializes in body procedures can work with you to develop a plan that addresses each of your unique concerns so that you can achieve optimal results and start feeling like the very best version of yourself.