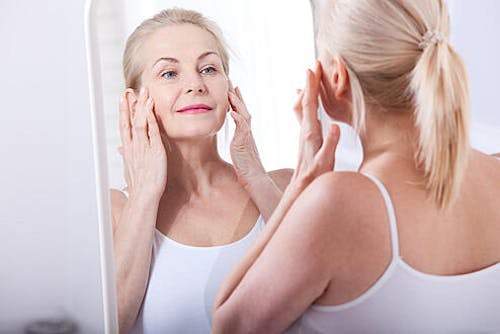 Aging skin is a natural part of life, and even if you follow the best skincare regimen and take all the recommended precautions, it's unavoidable. A properly performed facelift is the gold standard treatment for reversing the most common signs of aging, leaving you looking up to 10-15 years younger—but is it the right procedure to meet your personal goals?
Below, we'll discuss the facelift procedure and highlight each of the problem areas that it corrects to help you decide if it's the best option for you.
How a Facelift Can Improve Your Appearance
A facelift, also known as a rhytidectomy, is a surgical procedure designed to address the signs of facial aging, such as jowls, deep wrinkles, and loose, sagging skin. A healthy individual who is experiencing sagging skin on the face and jawline or deep creases around the nose and mouth, jowls, and/or folds on the neck is a good candidate for a facelift.
Facelifts correct aging skin and create a firmer, tighter, more youthful appearance. A facelift can also be combined with other procedures such as eyelid surgery or laser skin resurfacing to help you meet your specific goals and address the problem areas that are plaguing you.
"I am 60 years old, feel like I'm 30, and look like I'm 70....it was time. I am now 7 months post facelift by Dr. Clevens in Melbourne, Florida. I rate the surgery 100% worth it. Every result that I wanted from this surgery, I got it. The facelift was the perfect surgery for me because I had multiple target areas that I wanted corrected and most of them dealt with saggy, flat skin. Now that that excess skin around my eyes, face, neck is gone I feel like my true self again. I would go through the surgery and recovery process a hundred times over again for these results." - RealSelf Review
5 Problem Areas That a Facelift Can Correct
Below are the five different areas that a facelift can improve to help patients restore a more youthful appearance.
Get the most our of your consultation. Come prepared with this comprehensive checklist to help you ask all the right questions.
Loose and excess skin
Loose facial skin is a natural part of the aging process, and may also be a result of significant weight loss. A facelift removes loose, excess skin, tightens the underlying muscle, and lifts or repositions fat to rejuvenate and recontour several areas of the face in a way that creates natural-looking results you'll love. Depending on the extent of loose and excess skin, some patients also combine fillers or fat grafting options to amplify the results.
Deep creases and wrinkles
Nearly every individual experiences some degree of creases and wrinkles as they age, including deep folds that appear along the nose-cheek groove. Facelifts can dramatically reduce creases and wrinkles to restore your youthful appearance. Live fill and fat transfer may also improve deep creases and wrinkles.
Sagging corners of the mouth
If you struggle with sagging corners of the mouth (or the "wrinkles of sadness"), you are far from alone. Many people experience drooping corners of the mouth as skin loses elasticity and volume shifts downward with time. A facelift can reduce frown lines and sagging skin to help the facial skin appear smoother and tighter—meaning you'll be all smiles once you see the results! A corner of the lip lift may also improve sagging corners of the mouth.
Neck creases and folds
Laxity in the neckline develops over time and causes neck creases and folds as people age. A facelift lifts the neck and chin, improving both the facial profile and the neckline to achieve a younger-looking lower face and neck.
Jowls and double chin
Jowls are a natural but unappealing part of the aging process that appear when the lower part of a person's cheek begins to droop and sag, sometimes even resulting in the appearance of the dreaded "double chin." A facelift helps to lift and reduce jowls, creating a more defined, angular jaw and neckline and a more youthful appearance overall.
A facelift can help you correct problem areas, restore your youthful features and achieve the natural results that you'll love to see when you look in the mirror.