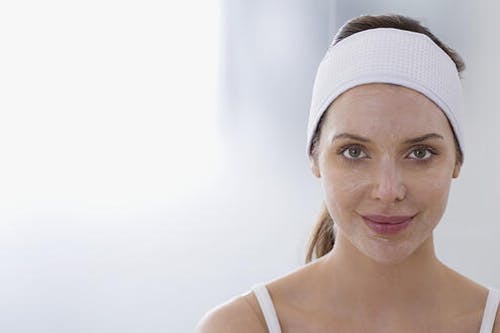 Chemical peels have become a mainstay at plastic surgery practices and med spas, with more than 1.38 million procedures performed in the US each year. With multiple options available and the ability to customize the treatment to target specific skin imperfections, it is no wonder chemical peels have grown in popularity over time.
If you're considering having one, you probably have questions about the different types of chemical peels and how to decide which is best suited to meet your goals. Let's review what chemical peels are, the different types of chemical peels available, and what you need to know to choose the right one for you.
Chemical Peels: What They Are and Which Acids They Use
A chemical peel is a nonsurgical cosmetic treatment during which an acidic solution (with a pH of less than seven) removes damaged top layers of the skin to stimulate new collagen growth and improve the skin's tone and texture. Chemical peels are popular among both male and female patients because they improve acne, fine lines and wrinkles, scarring, hyperpigmentation, sun damage, and rough patches of skin, creating a more youthful and refreshed appearance.
Acids commonly used for chemical peels include glycolic acid, salicylic acid, lactic acid, retinoic acid, phytic acid, trichloroacetic acid, maleic acid, and carbolic acid. Although terms like "chemical" and "acid" may seem daunting, rest assured all of the acids used for chemical peels are naturally derived from plants, and in many cases, are fruit extracts.
Understanding the Different Types Of Chemical Peels
Chemical peels vary based on the acid(s) used and the strength of the acid in the solution. At our practice, we offer four different proprietary chemical peels that are custom-blended for each patient by our licensed medical aesthetician to achieve specific results based on a patient's goals.
Here's a breakdown of the different types of chemical peels, and which ones we offer:
Superficial Peels
Superficial peels use mild alpha-hydroxy acids (AHAs) such as glycolic, lactic, maleic, citric, and tartaric acid to treat very fine lines, dry skin, and mild acne and skin pigmentation irregularities. Superficial peels also use beta-hydroxy acids (BHAs) like salicylic acid.
For example, our Level I Illuminize Peel is usually referred to as the "red carpet" peel because it's perfect to have on a Friday if you want your skin to look more radiant by Saturday evening. Patients experience very little (if any) downtime following a Level I Illuminize Peel. This peel is ideal for someone who wants to brighten and tighten their skin and have a very refreshed look.
Our Level II Revitalize Peel is double the strength of our Level I, but also requires very little downtime. Patients will experience mild pinkness to their skin for the first couple days, followed by a few days of sloughing, which is similar to a sunburn. One week after a Level II Peel, patients will notice their fine lines have softened and their skin is tighter and more youthful.
Request a consultation to speak with our expert team
Medium Peels
Medium peels such as trichloroacetic acid (TCA) peels are an excellent option for treating deeper wrinkles, acne scars, sun damage, and more advanced pigment irregularities. TCA is often combined with salicylic acid for a medium peel focused on improving acne.
Our Level III Transformation Peel, for instance, contains a custom blend of five acids, plus an additive of hydroquinone to even out the skin tone and reduce any brown spots caused by sun damage or melasma, which is often associated with hormonal changes. The result? Skin is tightened, toned, and totally transformed! Downtime for this peel is typically between four to six days.
Deep Peels
Deep peels often use carbolic acid, the strongest chemical peel solution, to achieve dramatic facial rejuvenation and longer-lasting results. Carbolic acid is sometimes combined with resorcinol, glycolic, and/or salicylic acid. Due to their concentration, deep peels often require 14-21 days for the skin to heal properly.
The Level IV Ultimate Regeneration Peel is our most penetrating peel, with the highest concentration of blended acids and hydroquinone. This peel reduces fine lines and pores, and totally renews the top layer of the epidermis, revealing glowing baby-soft skin beneath. With just one treatment, this peel accelerates and delivers exceptional results you might otherwise see over months with a series of lighter peels.
Some deep peels involve a form of pretreatment to prep skin. For example, our medical aesthetician recommends that patients should be on a daily skincare regimen for 30-60 days prior to their treatment to get the greatest benefit from their peel—especially for deeper peels that have a higher concentration of blended acids. Our aesthetician even has consultations with patients in advance of their peel to help select products and explain how best to apply them.
Each of the Level I-IV peels mentioned here are performed by our medical aesthetician, who is supervised by our Facial Plastic Surgeon Ross A. Clevens, MD, FACS. We also offer even deeper peels that are physician-administered for more dramatic results, which are typically an alternative to a laser skin resurfacing treatment.
How To Decide Which Chemical Peel Is Right For You
With so many different types of chemical peels, it's easy to customize your treatment to achieve your desired results. If you have sensitive skin, only minor areas of concern, or are a first-time chemical peel patient, consider starting out with a superficial peel that uses a mild solution, such as a glycolic, salicylic, or lactic chemical peel.
Salicylic, vitamin C, and retinol chemical peels are highly effective for treating acne. Glycolic chemical peels are excellent for exfoliating and dissolving dead layers of the skin, resulting in a smoother skin surface with clean, invisible pores. Depending on the strength you choose, you may have quarterly chemical peels supplemented with monthly exfoliating facials and a daily skincare regimen.
Seeking the beautiful skin you both want and deserve? Our medical aesthetician can assess your skin and make a recommendation on the best chemical peel to meet your personal needs and goals. Schedule your consultation to learn more about the different types of chemical peels we offer and which is right for you.