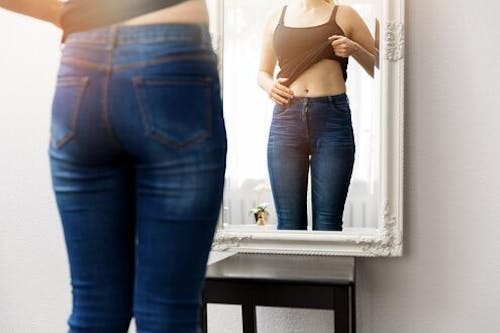 Do you love your body, but wish you had smaller, more proportionate breasts? Breast reductions are very popular among our plastic surgery patients, providing a go-to solution for minimizing discomfort caused by large breasts. Let's take a look at what a breast reduction can (and can't) accomplish, plus surgical and nonsurgical procedures to help you get rid of that stubborn belly fat for full body contouring.
Can a Breast Reduction Help You Lose Weight?
A breast reduction can boost your confidence and enhance the way you look, offering numerous benefits such as:
Improved breast and nipple shape, size, and position
More proportionate breasts in relation to your body size
Minimized excess fat, tissue, and skin in the breasts
Reduced back pain, neck pain, and physical discomfort
Decreased skin irritation and bra strap indentations
In addition to these benefits, many of our breast reduction patients find that it's much easier to exercise. That alone promotes weight loss after a breast reduction procedure. Any woman with large breasts can tell you how prohibitive they can be when you try to work out, which is why it's easy to understand how a breast reduction could make a difference. Along with easier exercise, you might also notice your breasts are lighter and more symmetrical, allowing for improved posture and reduced discomfort.
4 Procedures For Body Contouring After Breast Reduction
While a breast reduction can improve your overall shape, a body contouring procedure may also be beneficial and help enhance your aesthetic results. It's important to remember that body contouring procedures are not weight loss treatments, but they can help support your efforts by making exercise even more comfortable and addressing concerns such as excess, sagging skin and separated muscles due to pregnancy.
Both surgical and nonsurgical procedures can target unwanted belly fat after a breast reduction, or even at the same time, such as:
Tummy Tuck
A tummy tuck, or abdominoplasty, is a highly coveted procedure for those seeking a smoother, more toned abdomen. Tummy tuck patients typically pursue the procedure to address loose, sagging skin and muscle weakness resulting from weight changes, pregnancy, or the natural effects of aging. Just like no two patients have the same body type, there are different tummy tuck techniques to address different areas of concern.
For example, the "fleur-de-lis" technique is most effective for those seeking body contouring after massive weight loss, whereas a conventional tummy tuck is most beneficial for Mommy Makeover patients. If you're interested in having a tummy tuck along with your breast reduction, one of our board-certified plastic surgeons can recommend the best technique for you during your consultation.
Liposuction
Liponique, our signature approach to liposuction, allows you to customize your procedure to target specific areas with unwanted fat that don't seem to respond to diet and exercise. During a Liponique procedure, our breast and body specialists combine different liposuction and body sculpting technologies, such as the latest laser devices, to achieve the optimal results for your body.
Unsure whether you should pursue a tummy tuck or liposuction?
A tummy tuck is ideal for patients looking to remove excess fat and excess skin from the midsection. It's also the go-to option for patients who need their muscles tightened after they've become stretched or separated during pregnancy or weight changes. On the other hand, liposuction is great for targeting small fat deposits in different areas such as the stomach, hips, and thighs. Some of our patients even combine a tummy tuck with Liponique to address multiple areas at once for full body contouring.
CoolSculpting ELITE
CoolSculpting ELITE is the new and improved version of CoolSculpting, a noninvasive treatment designed to get rid of pockets of stubborn, unwanted fat on several areas of the face and body, without the need for surgery or downtime. Once CoolSculpting ELITE destroys fat cells, they are gone for good, making it a highly effective option for nonsurgical fat reduction.
In fact, CoolSculpting ELITE achieves up to 25 percent fat reduction in treated areas, including:
Abdomen
Side or flanks
Bra rolls
Upper arms
Back fat
Thighs
Buttocks
Double chin
Jawline
Some patients choose CoolSculpting ELITE to enhance results following a tummy tuck, while others use it as a stand-alone fat reduction treatment. Either (or both) can be combined with your breast reduction procedure to achieve your desired results. It all comes down to your body and your goals for your appearance!
SculpSure
Like CoolSculpting ELITE, SculpSure™ is a nonsurgical treatment designed to reduce unwanted fat using state-of-the-art laser technology. While CoolSculpting ELITE uses the science behind cryolipolysis or "fat freezing," SculpSure uses heat to gradually reduce up to 25 percent of fat in treated areas over time. At our practice, we offer both CoolSculpting ELITE and SculpSure nonsurgical body contouring options, so you can learn more about both treatments and discuss with our specialists in consultation which might be right for you.
How Do I Choose the Right Procedure For Me?
One of our board-certified plastic surgeons, who specialize in breast and body contouring procedures, can help you determine whether a tummy tuck, liposuction, or nonsurgical fat reduction treatment is the best fit for you. Our breast and body specialists can also make a recommendation based on the amount of belly fat you have, any specific concerns such as muscle tightening after pregnancy, and your personal preferences on:
Surgical versus nonsurgical procedures
Instantaneous versus gradual results
Short recovery versus no downtime
Many of our patients opt to combine or follow up weight loss and fat reduction procedures with a breast reduction to enhance their results. Combining procedures to target different areas is a great way to achieve full body contouring. For example, you might also wish to combine an arm lift (brachioplasty) with your breast reduction and fat reduction procedures, to sculpt your upper arms at the same time.
Some of our breast reduction patients also seek out CoolTone, a nonsurgical muscle toning treatment that uses magnetic muscle stimulation to add definition to the abdomen after fat reduction and improve athletic performance. CoolTone firms, tones, and strengthens muscles to accelerate exercise and training results for peak performance, and it can help maintain muscles you've built and toned in the gym.
Full Body Contouring, Custom-Tailored To Meet Your Goals
As you can see, there are numerous options available to help enhance your breast reduction results by contouring other areas of your body. With the right customized approach, you can enjoy the perfect breast size and shape for your body and get rid of unwanted fat for a smooth, sculpted appearance from head to toe.
Curious about full body contouring during or after a breast reduction procedure? Schedule your consultation to meet with one of our board-certified plastic surgeons, who specialize in body contouring and fat reduction.